Scenic USA - New York

The Cloisters
---
---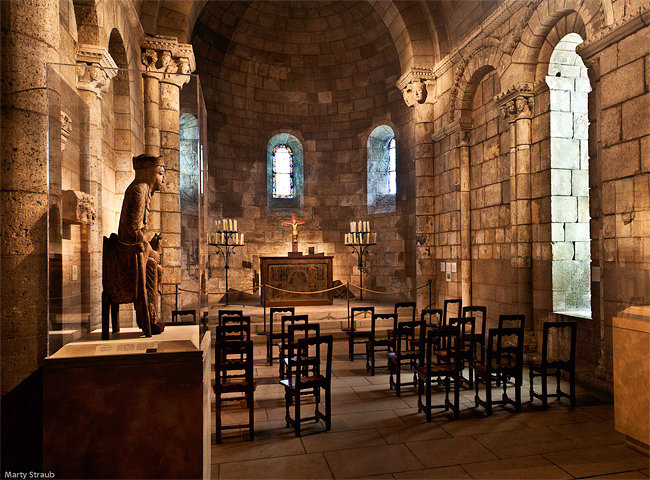 Definition of CLOISTER (klois'ter)
1a: a monastic establishment b: an area within a monastery or convent to which the religious are normally restricted c: monastic life d: a place of seclusion
2: a covered passage on the side of a court usually having one side walled and the other an open arcade or colonnade
According to Truman Capote, "New York is the only real city"! A smorgasbord of skyscrapers, museums, theaters and countless landmarks line the grid-work of city streets.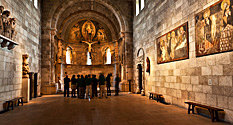 Among the city's top ten sights, such as the American Museum of Natural History, the Empire State Building, Lincoln Center and Times Square, NYC visitors will find The Cloisters atop a riverside cliff just north of the George Washington Bridge in Manhattan. Here in Fort Tryon Park, the museum and gardens cover four acres overlooking the Hudson. Created by an endowment grant by John D. Rockefeller, it was Rockefeller's vision to turn the area into a public park. Insuring the beauty of the location, he bought a large parcel of land across the Hudson River to preserve the view.
The Cloisters, a branch of the Metropolitan Museum of Art, is devoted to art and architecture of Medieval Europe. Incorporating works of art from the 9th through the 15th centuries, the museum features more than 5000 pieces. One of the most famous works is a set of Flemish Unicorn tapestries, donated from Rockefeller's own collection. Other objects include metalwork, stained glass, sculptures, manuscripts and handwritten books.
The museum's architecture, a small miracle in itself, incorporates parts of five French cloistered abbeys. Owned by George Grey Barnard, Rockefeller bought this scattered collection of churches and hired Charles Collens merge the structures into the Cloisters you see today.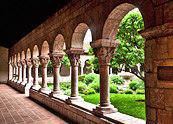 A few additions were later added by Brown, Lawford and Forbes in 1961.
As you may have guessed, landscape design included the name Olmstead. Treasures in themselves, the Olmsted Brothers were tasked to surround the structures with a park-like atmosphere and replicate a medieval garden. Researching old manuscripts, the medieval style cloistered plantings mirror those of 1000 year old European gardens. Today's gardens include modern plants as well as herb species that were known in the Middle Ages. The gardens alone are worth the visit, but if you are taking on New York City traffic, you may as well make a day of it.

Cloisters Map


---
| | |
| --- | --- |
| Nearby Points of Interest | |
---
Copyright © 2012-16 Benjamin Prepelka
All Rights Reserved