Scenic USA - Florida

Palace Saloon
---
---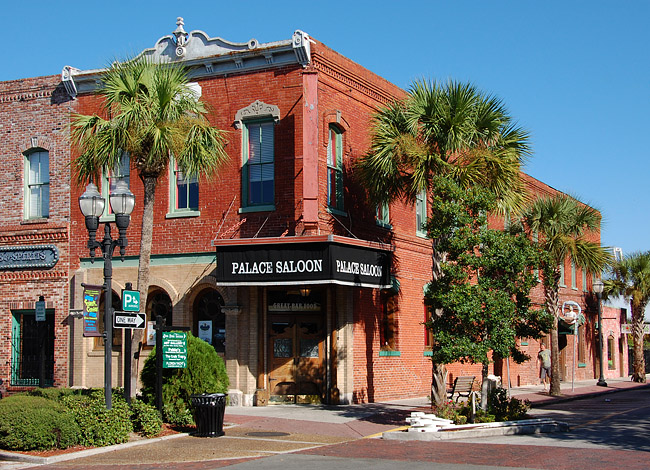 Serving Amelia Island customers for over a century, the Palace Saloon does its best to entertain its patrons every day. Here at Fernandina Beach, the only town on the island, the Palace Saloon is one of the highlights in a 50 block historic district. Built in 1878 among turn-of-the-century homes of the rich and famous, the Palace Saloon bills itself as Florida's oldest watering hole. Located on Centre Street, the historic Renaissance Revival brick building still houses the bar's inlaid mosaic floor tiles, paddle fans, wood-carved English-oak bar fixtures and the original 40 foot bar.
   Upgrading the interior to serve the upper-crust in 1905, owner Louis G. Hirth called on his friend Adolphus Busch (of Anheuser-Busch fame) to help with the decor. Along with the essentials, Hirth ordered cigar cases, solid brass cuspidors and a gas lighter. The walls were decorated with classic murals by a young sign painter, Roy Kennard. Interviewed at age 94, Kennard recalls he received 300 dollars for six murals, and cheerfully added, "It was just a lark, probably would have done it for nothing."
   Serving ship captains, and leading industrialists and financiers who wintered in the area, patrons of the Ship Captains Bar included famous names such as Carnegie, Rockefeller, Goodyear, Morgan and Ford.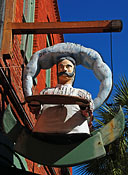 Here at one of the busiest ports on the Florida coast, money flowed just as quickly as the whiskey. Hirth, with a keen business sense, easily outpaced island competition.
   Seeing Prohibition ahead, Hirth stocked up on carload after carload of whiskey. One of the last bars to close in the nation, the Palace Saloon had a line of cars backed up for 11 miles. During Prohibition days, the Palace served near beer and low alcohol Virginia Dare wine. Card games and slot machines kept the crowds entertained. After Prohibition was repealed, the Palace continued with much less success. After Hirth's death, the Palace was operated under the Hirth estate until it was sold in 1956.
    Although fire nearly destroyed the saloon in 1999, "Florida's oldest swinging doors" are still able to welcome its patrons with tokens from the good old days. Seeing a coin operated player piano, jukebox, brass cash register, oak captain's chairs and gas light chandelier, the Palace is more than an old saloon, it's like a museum.

    Area Map
---
| | |
| --- | --- |
| Additional Points of Interest | |
---
Copyright © 2012-17 Benjamin Prepelka
All Rights Reserved