Scenic USA - Florida

Old Seven Mile Bridge
---
---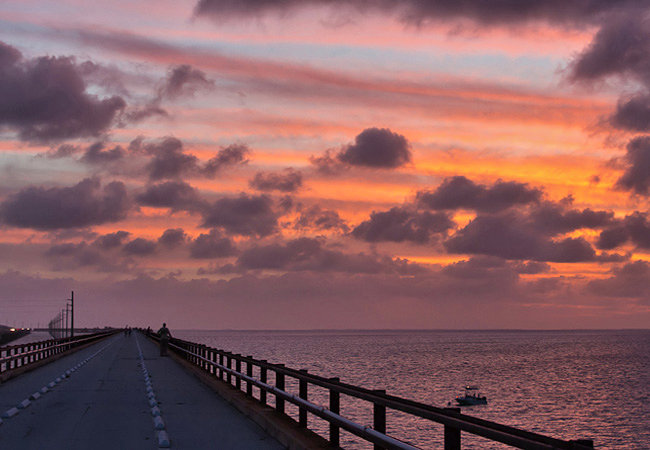 Unlike Florida's coastal barrier islands made of sand,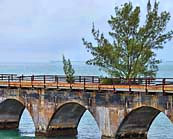 the Florida Keys are the exposed portion of an ancient coral reef which stretches about 130 miles in a huge arc from the mainland to Key West. Up until the early 1900s the Keys could only be reached by boat.
Coastal developer and head of the Florida East Coast Railway, Henry Flagler spearheaded an ambitious plan to extend his railroad from Homestead to Key West. Eyeing the commerce at the deep port of Key West, the railroad extension began as a series of over-seas railroad trestles, skipping from one key to the next. Often called the eighth wonder of the world, Flagler's over-seas railroad project required special concrete from Germany and Belgium, steel from Pennsylvania, timber and pilings from Georgia and an untold amount of fresh water from Miami.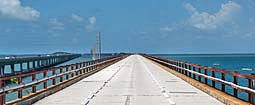 By 1908 the first segment to Knight Key was complete. Slowed by the hurricanes of 1909 and 1910, the Seven Mile Bridge, joining the Middle Keys with the Lower Keys was indeed an engineering marvel. Crossing 28 watery gaps with 17 miles of bridges and 20 miles of fill, at age 82 Henry Flagler completed the first rail excursion to Key West on January 22, 1912.
Already in decline during the Great Depression, the railroad received its death blow on Labor Day, 1935. Only one of three Category 5 hurricanes ever to make landfall in the United States, winds over 200 miles per hour destroyed Flagler's dream. Flagler's widow sold the railroad to the Overseas Road and Toll Commission.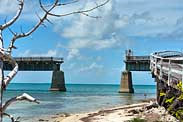 The old railroad bed and trestles provided a base for a two lane highway, taking shape during the late 1930s.
Replaced in 1982 with a modern highway, the historic Seven Mile Bridge allows bicycle and foot traffic to see the historic construction camp on Pigeon Key and doubles as a fishing pier. Feeling its age, the bridge is in desperate need of repair. Friends of Old Seven have kicked off a campaign to save the historic relic. One of the longest bridges in the world when built, the Old Seven Mile Bridge harbors a lengthy chapter of Florida history, well punctuated this beautiful sunset view.

Area Map
---
Nearby Points of Interest
---
Copyright © 2013-16 Benjamin Prepelka
All Rights Reserved