Scenic USA - North Carolina

Webb Overlook
---
---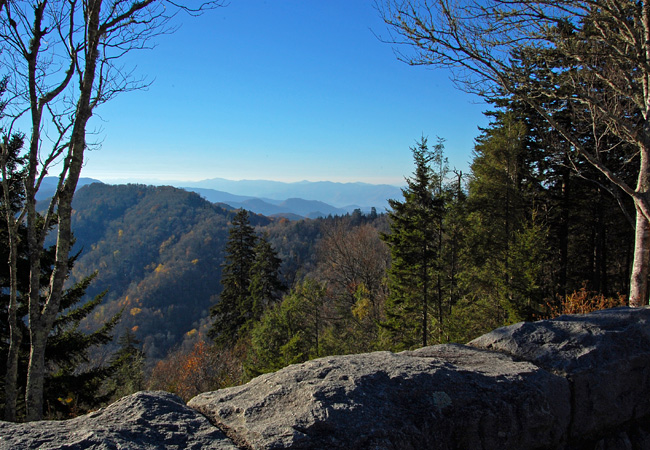 Located among some of the highest peaks in the East, the Great Smoky Mountains National Park puts on its best show of fall foliage from late September to late October. Because of the wide range in elevation, there's a good chance visitors will enjoy the park's most spectacular season anytime during the first three weeks of October. The fall is also a time when the park's wildlife try to pack on as many pounds as possible to get through the lean months of winter.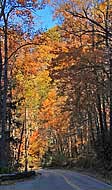 Each autumn park rangers assess the amount of mast available for area wildlife, hoping for a good year to keep animals away from busy highways in their search of food.
One of the best ways to enjoy the park is over the Newfound Gap Road, beginning in the south at the Oconaluftee Visitor Center and climbing over the State Line Ridge to the Sugarland Visitor Center in Tennessee. Here at the ridgeline, visitors will enjoy the Oconaluftee Valley Overlook, the valley area known for the historic Mingus Mill and a herd of elk that frequent the fields around the visitor center.
At the extreme elevations of Newfound Gap Road, park guests may connect with the Appalachian Trail and enjoy a small segment of what many cross-country hikers experience on their 2100 mile journey. Clingmans Dome Road also leads up to the tallest peak of the park, where a steep half-mile walk takes you to Clingmans Dome Tower. Also found along this route, the Webb Overlook honors North Carolina Senator Charles Webb.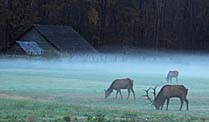 In the 1930s, Webb was editor of the Asheville Citizen, where his influential voice helped establish the Great Smoky Mountains National Park. From the overlook you'll be able to spot Clingmans Dome, the highest mountain in Tennessee. You may not notice, but the ever present haze in the air, which gave the park its name, is much cleaner than a decade ago. Still rated among the worst parks for air quality, area power plant scrubbers and cleaner burning automobiles have reduced acid rain and sulfur dioxide emissions in measurable levels.

Area Map
---
Smoky Mountain Waterfalls

Smoky Mountains Scenic Drives
---
Copyright © 2013-16 Benjamin Prepelka
All Rights Reserved