Scenic USA - West Virginia

Mother's Day Shrine
---
---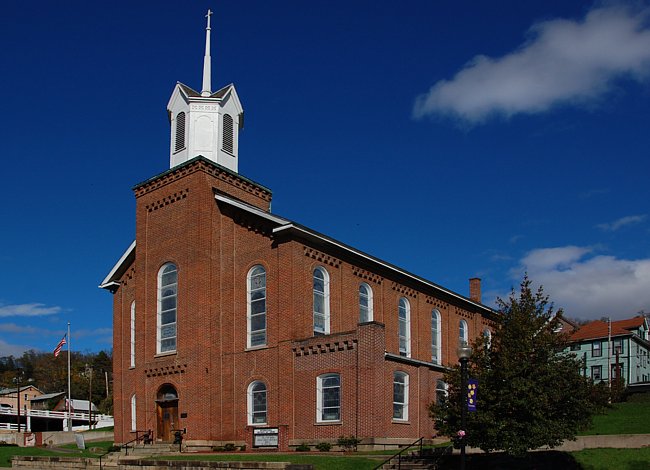 Celebrating Mother's Day since 1908, the Andrews Methodist Episcopal Church in Grafton, West Virginia, was officially established as the International Mother's Day Shrine in 1962. Growing in fame, the Mother's Day Church, built in 1873, was designated a National Historic Landmark in 1992.
   Raised in the small town of Webster, just south of Grafton, Anna Jarvis learned to appreciate her hard working mother. Although rarely speaking about her mother's accomplishments, itís now known Ann Jarvis initated Mothers' Day Work Clubs, aided Civil War troops, provided nursing care and helped maintain sanitary conditions. After the war, Ann continued to help heal the wounds of divided community. In later years, the Jarvis family moved to Philadelphia, where soon afterward Anna's mother (Ann) died.
   Legend describes how young Anna once had overheard her mother's wishes of a day to honor mothers while teaching Sunday school at the Andrews Methodist Church.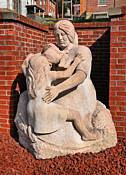 After her mother's death, Anna Jarvis set out to promote her mother's desire. Anna wrote a letter to the Grafton Church, expressing her ideas about a Motherís Day Remembrance. The first Mother's Day service was held at the Andrews Methodist Church on May 10, 1908. Anna provided the church with a shipment of hundreds of white carnations, her mom's favorite flower. Wealthy Philadelphia merchant, John Wanamaker, joined Anna in her cause, helping to further established Mother's Day. By 1914 President Woodrow Wilson officially proclaimed the second Sunday in May as Mother's Day. In a speech Wilson proclaimed, "The American Mother is the greatest source of our country's strength and inspiration".
  (Inset Photo, Mother with Children sculpture by William Douglas Hopen)

    Area Map
---
Nearby Points of Interest
---
Copyright © 2012-16 Benjamin Prepelka
All Rights Reserved