Scenic USA - Wyoming
Scenic USA offers a collection of select photographs from a wide variety of attractions, points of interest, historic sites, state and
national parks found throughout the United States. Each photo feature is coupled with a brief explanation.
For further detailed information, links to other related sites are provided.
Cloud Peak Skyway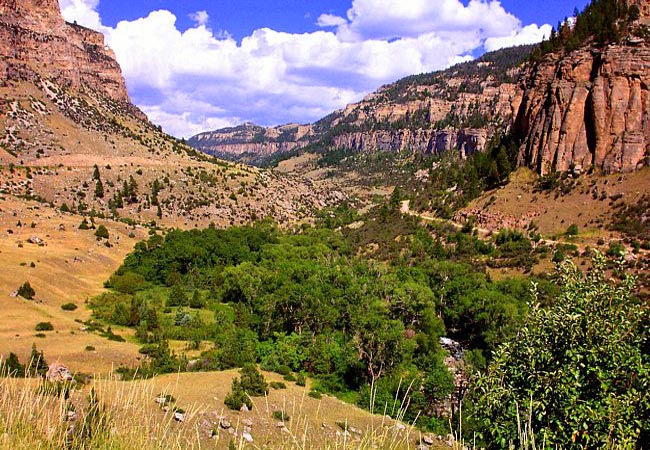 One of Wyoming's scenic byways follows Route 16 from Fort McKinney to the town of Tensleep. The byway, known as Cloud Peak Skyway, reflecting the name of nearby wilderness land, travels through the rugged lands of the Bighorn Mountains and national forest. Heading over the top at Powder Pass (elevation 9,666 feet), the Skyway crosses the backbone of the Bighorns. Here the scenery is spectacular, and pullouts offer a chance to catch your breath and enjoy the view. Cloud Peak, the granddaddy of the Bighorn Mountains, can only be seen from this route.
This scene is found just outside of Tensleep, a view into Tensleep Canyon. Today's highway is quite modern since its first improvements in 1920. Here the twists and turns and steep grades give testimony to the tenacity of the first travelers following this scenic highway. For those headed east, Tensleep was the last chance town. After all the mention of Tensleep, one has to wonder about the name. For the curious, the name comes from the Sioux, as this Bighorn foothills area was ten nights between camps.
Other notable stops along the byway include Medicine Lodge State Archaeological Site, and Cloud Peak Wilderness. Hikers will find plenty of challenges at Tensleep Preserve and throughout the Bighorn Mountains.
Copyright ©2008 Benjamin Prepelka
All Rights Reserved