Scenic USA - Texas
Scenic USA offers a collection of select photographs from a wide variety of attractions, points of interest, historic sites, state parks and
national parks found throughout the United States. Each photo feature is coupled with a brief explanation.
For further detailed information, links to other related sites are provided.
Presidio San Sabá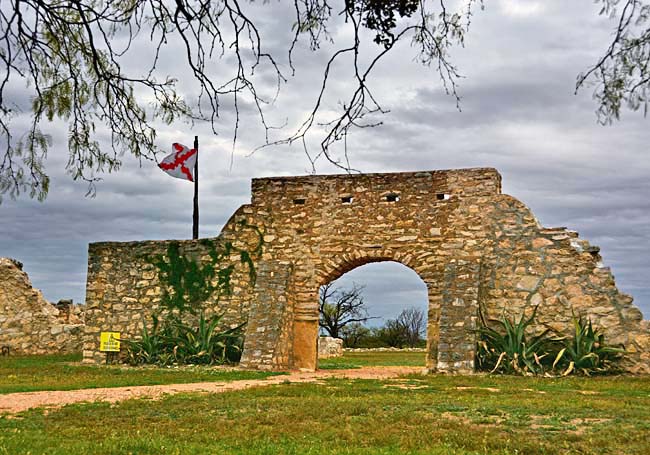 Out on the Texas frontier, during the mid 1700s, Spanish Colonials struggled to retain their foothold in the New World. Although new establishments met a number of obstacles and hardships, Spanish authorities supported still another new outpost on the San Saba River. Hoping to minimize Indian raids in and around San Antonio, the Presidio San Luis de las Amarillas and mission were established in 1757. Located about 125 miles northwest of San Antonio, a fort was built on the north side of the San Saba River. Four miles from the presidio, one of the largest missions in western Texas was established on the south side of the river. Mission founders soon discovered while befriending the Apache Indians, they had made enemies of the northern tribes of Comanche. Far superior to Spanish Colonial forces, the well equipped Comanche warriors conducted raids, lead devastating massacres, and continued constant harassment, eventually leading to abandonment of the San Sabá Mission. The mission was eventually destroyed in 1758.
A string of San Antonio's missions offer some of the finest examples of Spanish Colonial Period structures, ranging in all stages of preservation. Unfortunately, only minute traces of the mission and presidio at San Saba exist today. This ghostly San Sabá Presidio ruin is only a replica, recreated in 1936. Ambitious Texas Centennial efforts to duplicate the presidio were abandoned and lay in ruins, adding another chapter to Texas history.
Copyright ©2010 Benjamin Prepelka
All Rights Reserved