Scenic USA - Arizona
Scenic USA offers a collection of select photographs from a wide variety of attractions, points of interest, historic sites, state parks and
national parks found throughout the United States. Each photo feature is coupled with a brief explanation.
For further detailed information, links to other related sites are provided.
Mooney Falls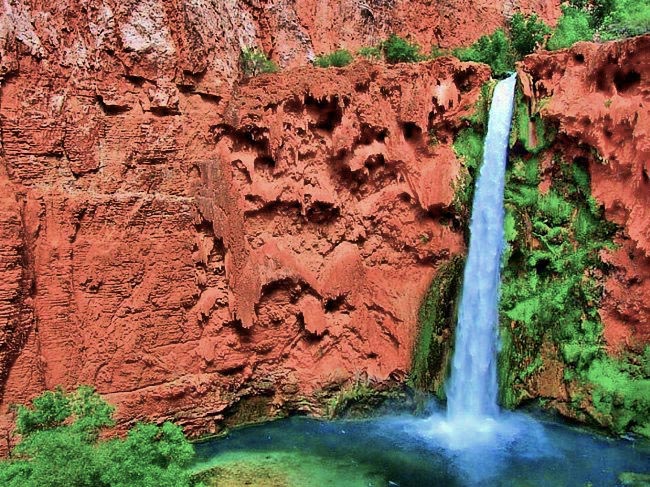 The Native Havsuw `Baaja Tribe, commonly called Havasupai, enjoyed the area surrounding Havasu Canyon (Cataract Canyon) as their home for nearly 800 years. At one time claiming an area of 2000 square miles, the Havasupai saw their territory quickly dwindle to 518 acres in the late 1800s. Encroachment from the search for precious metals, the establishment of the Grand Canyon National Park, and railroad construction finally pushed the Havasupai Tribe in action. Decades of court proceedings came to fruition in 1975, when the tribe regained over 250,000 acres of their homeland.

Today, tourism is the Havasupai's main source of income. Over 12,000 sightseers visit this tribal land and the village of Supai every year. Here in this dramatic canyonland, the most famous attraction is Havasu Falls. Pictured here is Mooney Falls, the tallest in the canyon and one least affected by a 2008 flash flood. Over the course of one day, flood waters changed the landscape forever. Navajo Falls was obliterated, other falls created, the campground was destroyed and visitors were stranded.
The thundering Mooney Falls, named for D.W. Mooney (who lost his life climbing the falls), is only viewed from the base after a dangerous decent. Slippery rocks, tight passageways, and near vertical drops, make this a very special view. Even the trip into Supai from the Hualapai Hilltop is only reached by foot, horseback or helicopter!
Copyright ©2010 Benjamin Prepelka
All Rights Reserved