Scenic USA - Kansas
Scenic USA offers a collection of select photographs from a wide variety of attractions, points of interest, historic sites, state parks and
national parks found throughout the United States. Each photo feature is coupled with a brief explanation.
For further detailed information, links to other related sites are provided.
Old Cowtown Museum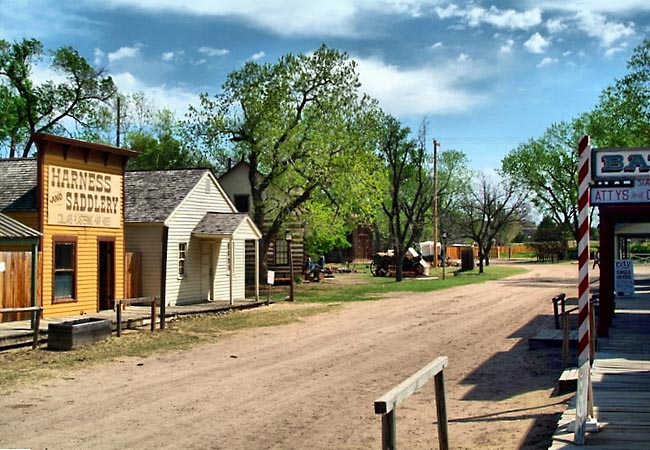 Credited with saving Texas from economic ruin, the 1200 mile Chisholm Trail stretched across the prairie from Brownsville, Texas, to Abilene, Kansas. Named for Jesse Chisholm, the famed trail came about during the Civil War when Texas was cut off from northeastern cattle markets. It didn't take long before the Texas prairie was overrun with more than five million head of cattle. Beginning in 1867, huge herds were pushed along the Chisholm Trail into Oklahoma Territory, where the grass and water were free. Lingering for more than a month in Oklahoma, the cattle would gain weight before the final drive to the Kansas rails.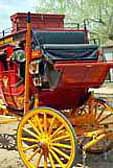 Located nearby the Chisholm Trail, the Old Cow Town Museum in Wichita invites its guests back to the sights and sounds of a thriving 1870s community. Period artifacts allow a firsthand look into the workings of a blacksmith shop, and a glimpse of the residence of the town's founding father, Darius Munger. Be prepared to take cover into the nearest doorway at the first sound of gunfire from the street.
Hungry? Put on the feed bag at the Diamond W Chuckwagon Supper. Here, you can sit back to a good old fashioned bar-b-que and entertained by the Diamond W Wranglers. This open air living history museum blends Kansas history with authentic buildings and costumed performers for an all-American frontier experience.
Copyright ©2010 Benjamin Prepelka
All Rights Reserved