Scenic USA - Colorado

Unaweep-Tabeguache Byway
---
---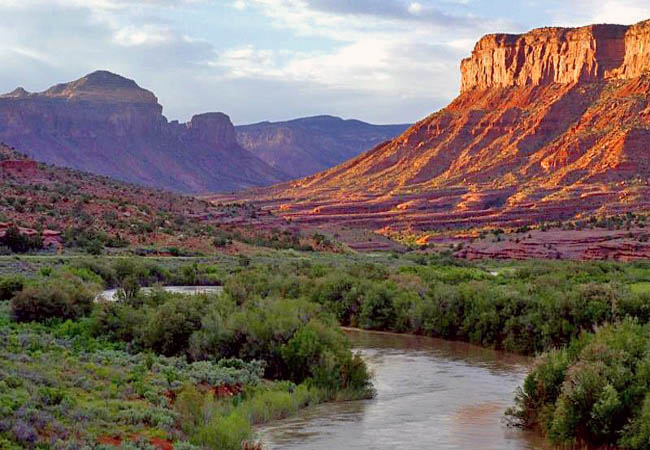 The Dolores River, following the western border of Colorado, flows through the edges of the Uncompahgre Plateau. Beginning as snowmelt in the high country of the San Juan Mountains, the Dolores is fed by a half dozen streams that plunge down from the plateau, offering its best whitewater from late April to early June.
As the river flows beside Route 141,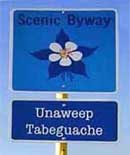 byway travelers will find one of the more dramatic sections of the Unaweep-Tabeguache Scenic and Historic Byway. Once the Dolores rips through the Paradox Canyon, the river slows through the town of Gateway and crosses the border into Utah were it joins the Colorado River.
Gateway was named for its close proximity of Colorado's border with Utah, but may also allude to a gateway to the area's rugged beauty. The Unaweep-Tabeguache (TAB-a-watch) Byway follows legendary wagon routes used to haul radium ore. Nine Mile Hill challenged the best mule teams in the state with its 18 percent grades. This backcountry route, following routes 141 and 145, introduces sightseers to the Unaweep Divide where waters head east to the Gunnison River and west to the Dolores River.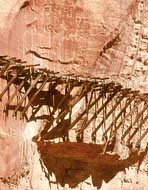 To the south, the byway passes Wright Mesa and drops down to the free flowing San Miguel, one of the few remaining unchecked rivers in the West. The historic Driggs Mansion (circa 1914), the Hanging Flume, and coke ovens offer some of the historic points of interest on the byway. Well over a century old, the Hanging Flume still clings to the cliff walls about 150 feet above the Dolores River. Designed to carry water to the Lone Tree placer gravels, flume builders were suspended from the cliff tops by a cantilever framework. Although the mining company used nearly two million board feet of lumber and spent more than 170,000 dollars building the six mile flume, so little gold was recovered the flume and placer site were quickly abandoned.
A stop at Gateway may include lunch or a visit to the Gateway Colorado Automobile Museum. Here, byway travelers may enjoy a century of automotive history, and a collection of over 50 cars at any one time. Be on the lookout for the Grand Valley Overlook at Gateway and the stunning views of Unaweep Canyon from Taylor Granite Quarry.
Although the byway is just over 130 miles, it may take much more time to enjoy all the sights and photo ops between Whitewater and Placerville.

Byway Map
---
| | |
| --- | --- |
| Nearby Points of Interest | |
---
Copyright © 2010-15 Benjamin Prepelka
All Rights Reserved