Scenic USA - Colorado
Scenic USA offers a collection of select photographs from a wide variety of attractions, points of interest, historic sites, state parks and
national parks found throughout the United States. Each photo feature is coupled with a brief explanation.
For further detailed information, links to other related sites are provided.
Mount Garfield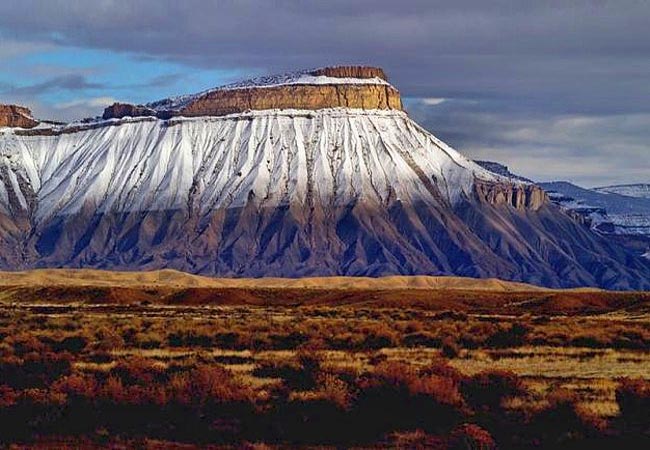 Dwarfed by neighboring Grand Mesa, the Book Cliff Mountains still provide a dramatic look to western Colorado and eastern Utah's landscape. This view of Mount Garfield, found nearby Grand Junction, represents the eastern end of the Book Cliff Range. Extending 2000 feet above the floor of the Grand Valley, Mount Garfield's presence just begs to be climbed. Two separate trails lead to the top; both extremely steep, cluttered with loose rock, and become very slippery after a brief rain shower. Once the two mile assent is complete, climbers are rewarded with spectacular views of Grand Valley.
The Grand Valley name dates back to when the Colorado River went by the name Grand River. The river valley not only mirrors the river, but I-70 takes full advantage of the even ground and follows the Book Cliffs from Palisades, Colorado, to Green River, Utah. Here at Green River, the Book Cliffs turn northward, traced by U.S. Route 6.
The Book Cliffs, world's best example of sequence stratigraphy, get their name from a tough caprock layer that appears to be lined up like a stack of books on a shelf. The Book Cliffs are a small remnant of an ancient seabed, thrust upward with the Uncompahgre Uplift that also created Colorado National Monument. This section of Colorado and Utah is filled with dramatic scenery and offers a treasure trove of natural wonders illustrated by this remarkable view of Mount Garfield.
Copyright ©2010 Benjamin Prepelka
All Rights Reserved