Scenic USA - Colorado

Black Canyon of the Gunnison
---
---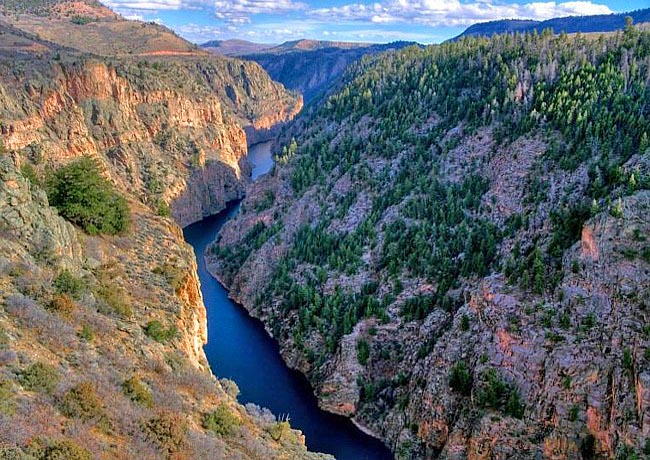 This dramatic overhead view of the Black Canyon, seen from Pioneer Point, easily illustrates how this narrow gorge received its name.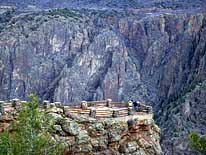 The canyon's near vertical walls, dropping nearly 2700 feet near Warner Point, keep the Gunnison River in the shade most of the day. Here the Gunnison River, before it was slowed with a series of dams, opened up a breathtaking crystalline rock gorge, and one of the deepest canyons in Colorado. Erosion has exposed some of the oldest rocks on earth, some dating to the Precambrian Era of nearly two billion years old. While some of the most spectacular viewpoints are seen throughout the national park, the canyon continues into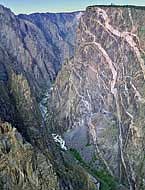 Curecanti National Recreation Area and Gunnison Gorge National Conservation Area, for a total length of 53 miles.
Here in the park, the spectacular canyonland can be easily viewed from overlooks on both the north and south rims. Viewpoints are found along the roadside or over short trails to the rim. The Black Canyon of the Gunnison National Park offers a half dozen trails along the rims. While no maintained or marked trails drop down to the river, the two mile Oak Flat Trail Loop does dip below the rim, offering a challenging hike with steep slopes and tight trail sections. Unofficial routes to the river are sketchy and should be attempted by only an experienced adventurer. Technical climbing routes are long, multi-pitched routes, requiring advanced skills and preparation.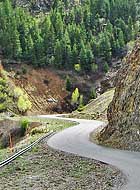 For the average visitor, rim trails vary from under a mile to a seven mile roundtrip to Green Mountain, offering some of the best scenic viewpoints and sufficient thrills for a cliff-side hike.
For those avid explorers hoping to get a riverside view of the canyon, off to the east at the Curecanti National Recreation Area are a half dozen different trails that wind down to the Gunnison River. Just outside the border of the national park, the East Portal Road provides acccess to the East Portal Campground, and allows sightseers to drive into the canyon. The road, about five miles in length, is extremely steep (as much as 16% grade) with plenty of hair-raising curves to keep timid passengers in a white-knuckle state. Vehicles on Portal Road are restricted in length to 22 feet or less.

Area Map
---
| | |
| --- | --- |
| Nearby Points of Interest | |
---
Copyright © 2009-15 Benjamin Prepelka
All Rights Reserved