Scenic USA - Nevada

Hobgoblin's Playground
---
---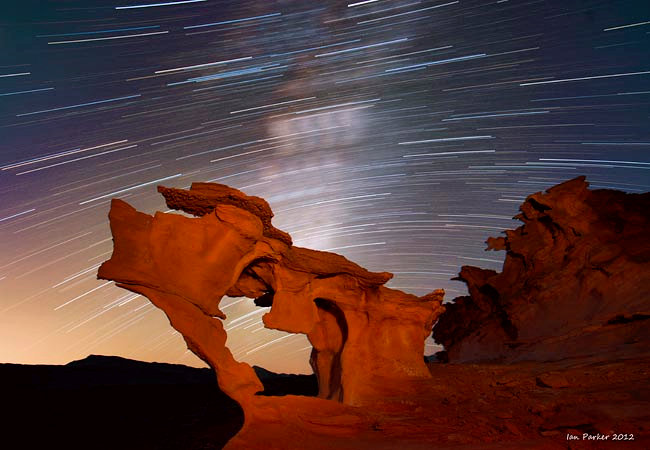 Like a fanciful mirage, fiery sandstone fins and bizarre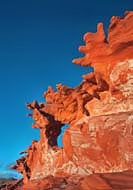 shaped hoodoos leap from the desert floor. Here in the Gold Butte area on a remote section of Mojave Desert you'll find Hobgoblin's Playground. A land governed by the BLM and well off the beaten track, these highly weathered rock formations appear like something from another planet.
Akin to the nearby Valley of Fire, this red rock setting was formed millions of years ago from windblown dunes. Today's ever-changing landscape, shaped by wind-blown sand and occasional heavy rains, makes it difficult for desert plants to take hold. Small dunes areas are held in place with sparse desert grasses, sagebrush and saltbush. While lizards and snakes are common, small desert dwelling mammals such as jackrabbits, kangaroo rats, mice and coyotes are seldom seen.
Known as Hobgoblin's Playground, Devils Fire or Little Finland, this Nevada wonderland attracts both the adventurous and hardy photographers.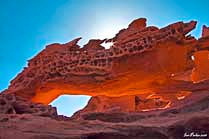 Requiring high clearance or 4WD vehicles to access the area, these sandstone Hobgoblins take on an ever redder glow at sunrise or sunset. A few of these odd shaped formations have taken on descriptive names, such as the Ancient Elephant, Little Dinosaur and Big Nose.
Unlisted on the BLM's website and highly discouraged by management officials, this area can still be enjoyed by the undaunted. But, keep in mind the desert environment is fragile, rock formations easily crumble and there are no park staff members to pick up your liter. Please enjoy responsibly.

Detailed Map
---
| | |
| --- | --- |
| Additional Points of Interest | |
---
Copyright © 2012-15 Benjamin Prepelka
All Rights Reserved