Scenic USA - Nevada
Scenic USA offers a collection of select photographs from a wide variety of attractions, points of interest, historic sites, state and
national parks found throughout the United States. Each photo feature is coupled with a brief explanation.
For further detailed information, links to other related sites are provided.
Lake Mead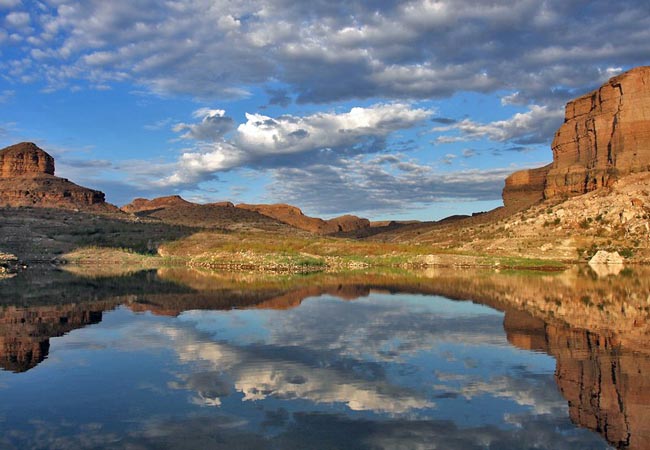 Higher than any dam built before, the Hoover Dam is one of the tallest in the Northern Hemisphere. Anchored to the sidewalls of Black Canyon and 660 feet thick at the base, the 726 foot high structure has held back the Colorado River since 1935. Some see it as a huge blemish on the ancient desert where Native Americans roamed for 10,000 years. Here along the banks of the Colorado River Indian Tribes hunted game, collected desert plants and grew maize, squash and beans.
This striking Lake Mead scene captures a dramatic cluster of clouds and paints a beautiful reflective image. Built for practical purposes, the lake's secondary benefits offer a wide range of recreation ideas. Spread over 290 square miles and attracting more than nine million visitors a year, America's first national recreation area around Lake Mead provides sections for boating, sport fishing, desert hiking, backcountry camping, lakeshore scenic drives, historic sites and picnic areas. Falling under control of the National Park Service, this unique contrast of desert and water continues to provide unexpected scenes of unspoiled backcountry, only enhanced by a backdrop of mountains and canyonlands.
Copyright ©2006-2009 Benjamin Prepelka
All Rights Reserved