Scenic USA - Indiana
Scenic USA offers a collection of select photographs from a wide variety of attractions, points of interest, historic sites, state and
national parks found throughout the United States. Each photo feature is coupled with a brief explanation.
For further detailed information, links to other related sites are provided.
Portland Arch Preserve
Indiana's nature preserve park system, a collaboration of multi agencies, has gathered up a collection of over 160 unique sites statewide. Some preserves are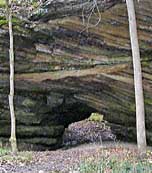 so fragile that no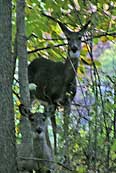 visitation is allowed. The Portland Arch Nature Preserve not only allows visitors, but offers a wonderful small park, complete with a trail loop, sandstone bluffs, peace and quiet, and the Portland Arch. The trail leads by a deep ravine carved by Bear Creek, lying in the shadows of the Mansfield Sandstone cliffs.
The small park, just under 300 acres, is covered in a thick canopy of maples, oaks and hickory. This dense forest is a perfect setting for mosses, ferns and lichens. A few rare species of honeysuckle, rock selaginella and Canadian Blueberry are found in the preserve, a National Natural Landmark.
The preserve is found nearby the western Indiana town of Fountain, previously called Portland.
Copyright © 2009 Benjamin Prepelka
All Rights Reserved