Scenic USA - California
Scenic USA offers a collection of select photographs from a wide variety of attractions, points of interest, historic sites, state and
national parks found throughout the United States. Each photo feature is coupled with a brief explanation.
For further detailed information, links to other related sites are provided.
Point Vicente Lighthouse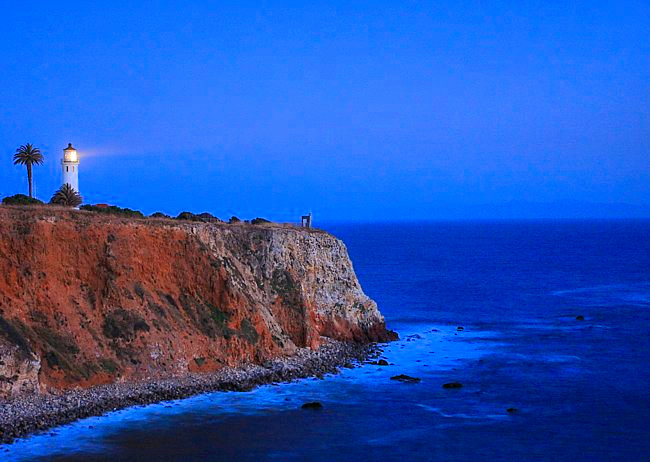 Evening sets in on southern California's Palos Verdes Peninsula, a point of land that juts out from the coast between Los Angeles and Long Beach. This rocky point rises up from the Pacific 130 feet, an ideal position for a lighthouse. Here the Point Vicente Lighthouse warns mariners of the rocky shoals below, and marks the northern end of Catalina Channel. The peninsula was named by Captain George Vancouver in 1790, honoring Friar Vicente of Mission Buenaventura.
This charming coastal scene, a favorite for California visitors, artists and photographers, has beautified these cliffs since 1926. The beacon displays a remarkable 1.1 million candlepower beam, most powerful on this coast, reaching 20 miles out to sea. The 1,000 watt bulb is magnified by a hand-ground Fresnel lens, manufactured in Paris by Turenne, Barbier and Bernard, the oldest lens company in the world. Its precision prism and lens assembly miraculously transforms the glow of a single bulb into a powerful beam. The lighthouse is still in service today, and rests on U.S. Coast Guard property. Tours of the light tower are conducted once a month. Visitors are reminded that the area remains restricted, allowing access only on tour days.
Copyright © 2009 Benjamin Prepelka
All Rights Reserved