Scenic USA - Ohio
Scenic USA offers a collection of select photographs from a wide variety of attractions, points of interest, historic sites, state and
national parks found throughout the United States. Each photo feature is coupled with a brief explanation.
For further detailed information, links to other related sites are provided.
Vermilion Lighthouse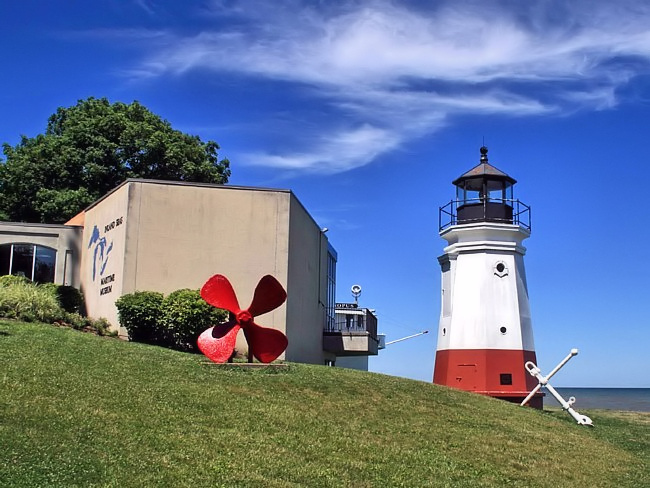 Following the lines of a familiar Bible verse, beating swords into ploughshares, the original Vermilion Lighthouse tower used the cast iron from Civil War era Fort Sumter cannons. A pacifists dream, the 1877 light became a replacement for an old wooden structure that was quickly giving way to the elements. The lighthouse received its name from the nearby river and the Ohio town Vermilion. The solid structure came complete with a red beacon, and stood guard on Lake Erie and the river entrance.
As a youngster, Ted Wakefield was first to notice the demise of the cast iron light tower, as it tilted on its pierhead. As a grownup, Ted went on to initiate construction of the Inland Seas Maritime Museum. He also rallied the townspeople for a replica Vermilion Lighthouse, part of his favorite childhood memories. By 1991, Ted saw his dreams turning into reality. The light was dedicated in June 1992. Complete with its red glass cylinder, the lighthouse was once again added to the U.S. Coast Guard's list of active navigation aids. Not long after the new light's dedication, Ted discovered that his long lost light, thought to have ended in a scrap heap, had been renovated and put back into service on Lake Ontario at the entrance to the St. Lawrence Seaway.
Copyright © 2009 Benjamin Prepelka
All Rights Reserved