Scenic USA - Georgia

Old Mill at Berry College
---
---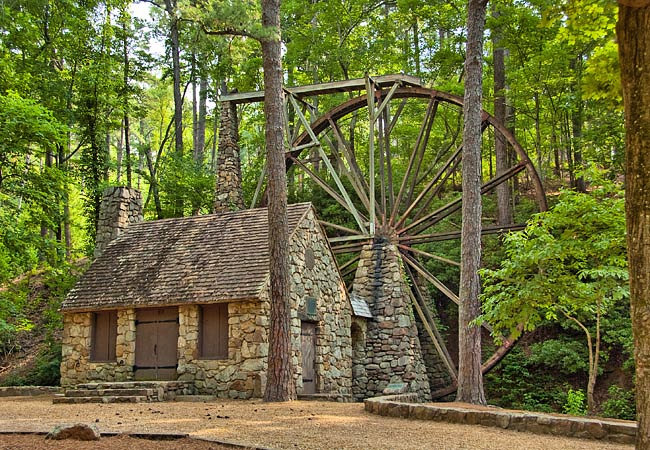 Berry College, a four-year private college, is located in Mount Berry just north of Rome, Georgia. Accredited by the Southern Association of Colleges and Schools, Berry College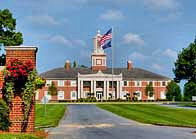 was chosen as the nation's number one Up-And-Coming liberal arts college. Located on 27,000 acres in Floyd County, Berry College is best known among photographers and grist mill aficionados for its old mill.
Featured as the trademark for Southeastern Mills,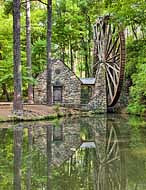 the grist mill at Berry College was built in 1930. One of the most popular mill settings in the South, the mill's most prominent feature is its huge overshot millwheel. One of the largest in the world, the wheel measures 42 feet in diameter and three feet in width. With a wheel hub donated from The Republic Mining and Manufacturing Company, college students built the extra-large wooden wheel and the stone millhouse. As part of their education, students directed water to the wheel from the Berry Reservoir above. Water was ingeniously gravity fed up a stone tower and directed onto the overshot wheel. The mill was operated by Greenberry G. Goodson, producing cornmeal, grits and wheat, which were locally grown at the college. During difficult times of the Depression Era, this endeavor helped feed the students. Goodson was overheard talking to visitors saying that he had "heerd a lot of talk about de-pression this and de-pression that. I kept thinkin' it must be a mighty powerful thing and hoped it wouldn' get down here. Now I fin' out it's nothin' but hard times, and we was raised on 'em!"
During the mid 1940s, the mill machinery fell in disrepair and was never deemed a top priority during the war years. The mill languished until 1977, when a renewed interest in the old mill returned. Students once again returned to the site, helping to effect repairs. The college has always been proud of its idea of practical training, first introduced by Martha Berry in 1902.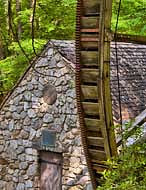 The 20th century Berry schools became models for vocational, agricultural and mechanical schools throughout the South, showing how to improve life in poor rural areas. Today, the college students continue to learn specific job skills and real work experiences, taught from seasoned professionals.
Dedicated as a memorial to director Dr. Gordon Keown, the mill is open to the public during daylight hours. Lying in a valley below the south slope of Lavender Mountain, visitors must drive through the Berry College campus to the mill site. It's highly recommended to stop at the main campus gate and secure a map of the area. It's a fairly short drive to the mill and a very scenic one, passing through a wooded area of oak, hickory, dogwood, sourwood and pine. The mill is used once a year on Mountain Day, producing 800 to 900 bags of corn meal.

Area Map
---
Nearby Points of Interest
---
Copyright © 2015 Benjamin Prepelka
All Rights Reserved