Scenic USA - Tennessee
Scenic USA offers a collection of select photographs from a wide variety of attractions, points of interest, historic sites, state parks and
national parks found throughout the United States. Each photo feature is coupled with a brief explanation.
For further detailed information, links to other related sites are provided.
Gentleman's Swimming Hole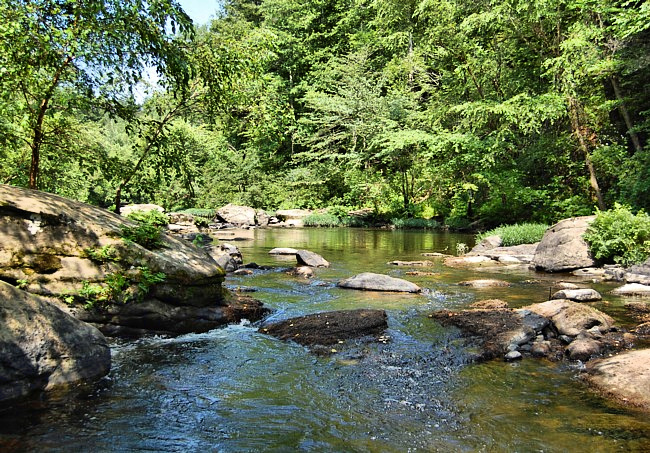 Rugby, named after a school that Thomas Hughes attended in England, began as a community where new arrivals to Tennessee could begin useful lives in a utopian society. Hughes' plans got off to a rocky start when these upper-class members of the community would rather play tennis than tend the garden plots or read a newspaper rather than put together the latest edition. Although 300 people called Rugby home at one time, by 1900 many of its original settlers had moved on.
Today's Rugby and its collection of 1880's charming Victorian homes take up the southern boundary of the 125,000 acre Big South Fork Recreation Area. This area is more than big; in fact it takes up a huge section of the Cumberland Plateau that spans the Kentucky / Tennessee border. The real Big is in reference to the Big South Fork of the Cumberland River. This wild and mountainous land is cut by the Big South Fork and its numerous tributaries. Just to the north of Rugby, a short hiking trail drops down to one of these tributaries, the Clear Fork River. Beginning at the Laurel Dale Cemetery, today's visitors can retrace the footsteps of Rugby residents as they walked down to the Clear Fork Gorge to cool off at the Gentlemen's Swimming Hole. From here, hikers can continue on to the confluence of White Oak Creek and Clear Fork River. This site, called Meeting of the Waters, was also the traditional Ladies Bathing Place. This three mile loop trail leads back to the cemetery. Here along Clear Creek, the trees run right down to the river bank. The creek's clear waters slowly meander passed a myriad of large boulders. The Gentlemen's Pool is a natural pool in the river, followed by a small cascade. In the summertime the trees cast their green, lacy reflection on the water. One can imagine what colors autumn would bring to this area.
Copyright ©2010 Benjamin Prepelka
All Rights Reserved