Scenic USA - Virginia
Scenic USA offers a collection of select photographs from a wide variety of attractions, points of interest, historic sites, state parks and
national parks found throughout the United States. Each photo feature is coupled with a brief explanation.
For further detailed information, links to other related sites are provided.
Battleship Wisconsin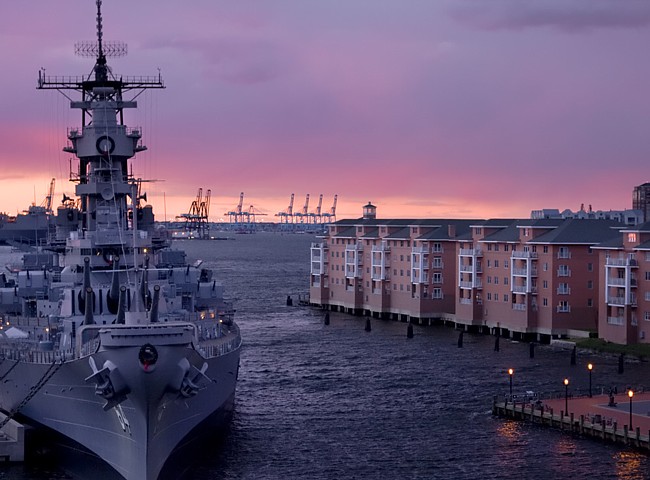 Preparing for the worst as political tensions grew in Europe and Asia, six Iowa-class battleships were ordered in 1934. The U.S.S. Wisconsin was the largest of a group of four that were eventually completed, launching in December 1943. Her main battery included nine 16-inch guns, using individual shells that weighed over a ton. Secondary batteries included an array of smaller guns and antiaircraft weaponry. Its huge hull, measuring 800 feet long, displaced 52,000 tons and drew 36 feet of water.
These Iowa-class battleships served in all major American wars from World War II to the Gulf War. These fast battleships were used to escort the Fast Carrier Task Forces in the Pacific Theater of World War II. The hard fighting Wisconsin earned five battle stars during these late Pacific operations. It seems odd after all the battleship went through, its worst damage occurred during peace time. In a heavy fog off the Virginia coast in 1956, the Wisconsin collided with the USS Eaton. Both ships received heavy damage to their bows, and remarkably only one casualty was reported. One of the unfinished Iowa-class battleships donated it 68 foot bow section to the Wisconsin, and 16 days later the freshly repaired Wisconsin departed the Norfolk Naval Shipyard.
Today the U.S.S. Wisconsin is berthed in Norfolk, providing visitors a self-guided audio-tour. Just recently the Hampton Roads Naval Museum opened up sections of the Wisconsin's interior. A guided tour offers extraordinary views of the captain's cabin, flag bridge and combat engagement center. Plan on spending at least two hours to see the battleship's highlights.
Copyright ©2010 Benjamin Prepelka
All Rights Reserved