Scenic USA - New Jersey

Absecon Lighthouse
---
---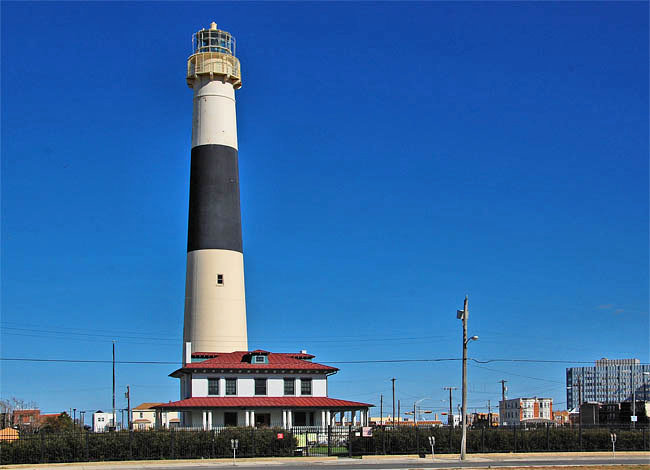 A late season hurricane, combining forces with a strong northeastern storm front, wasted little time wreaking havoc on the eastern coast of the United States. Following storm model paths, late October's
Super-storm Sandy offered no surprises as she made her predicted turn westward, pummeling the New Jersey Shore and New York City area. This extremely powerful system brought in a storm surge that surpassed anyone's memory, tearing up coastal towns and flooding countless city streets and homes. Southward, blizzard conditions paralyzed West Virginia and continued on into northeast Tennessee.
   In the midst of chaos and destruction, New Jersey's tallest coastal sentinel remained unshaken and unscathed. Here in Atlantic City, surrounded by residential homes, apartment buildings, the boardwalk and area casinos, the Absecon Lighthouse spans two centuries marking the way into Absecon Inlet.
   Completed in 1857, a special first-order Fresnel lens was fitted to the 177 foot lighthouse, casting a beam nearly 20 miles to the horizon. A scare from beach erosion prompted the construction of four wood and stone jetties, which were eventually covered over with sand.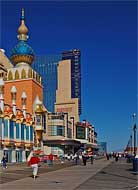 The lighthouse was decommissioned in 1933 and only lit several times during city celebrations. Placed on the National Register of Historic Places in 1970, the lighthouse attracted attention from the IPPA (Inlet Public/Private Association). Hoping to revitalize the inlet area, several key grants raised enough money to refurbish the lighthouse and the keeper's quarters.
   The lighthouse is open and invites its visitors to climb all 228 steps to the lantern room. Greeted with 360 degree views of Atlantic City, guests may now be surprised to see how the Absecon Inlet area and the famous Atlantic City Boardwalk have recovered. The lighthouse and museum are open every day from 11am to 4pm, except on Tuesdays and Wednesdays.

     Area Map
---
| | |
| --- | --- |
| Nearby Points of Interest | |
---
Copyright © 2012-16 Benjamin Prepelka
All Rights Reserved