Scenic USA - Illinois
Scenic USA offers a collection of select photographs from a wide variety of attractions, points of interest, historic sites, state and
national parks found throughout the United States. Each photo feature is coupled with a brief explanation.
For further detailed information, links to other related sites are provided.
Ariston Café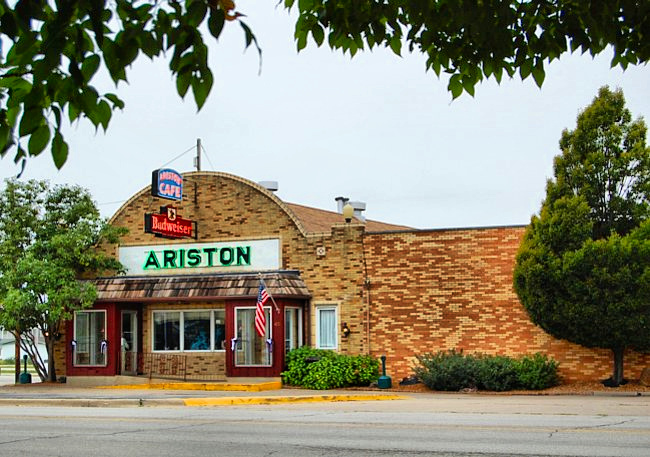 One of the oldest Route 66 restaurants, recently placed on the National Register of Historic Places, is located in Litchfield, Illinois. The Ariston Café is nearing 75 years of continuous service. The building reflects its 1930s period Art Deco style, seen in its sweeping curved roofline, neon lighting, and handsome wood-paneled booths. The interior is complete with antique lighting fixtures made by Springfield's Fitzpatrick Fixture Company and original tables are fully dressed, complete with cloth napkins.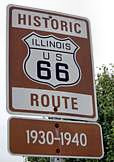 Off to a rocky start in the midst of the Great Depression, founder Panos (Pete) Adam used his business sense, moving from the original location in Carlinville and taking advantage of Route 66 traffic in Litchfield, the major transportation corridor through Illinois.
Today's Ariston Café's crisp wait staff still serves up a great meal and prices are reasonable. On a nostalgic note, it's been a long time since a porterhouse steak was 85 cents. This view catches the restaurant shortly before opening time, but the parking lot quickly fills at this popular eatery. The restaurant has been operated by the Adam family for almost all of its 75 years, and today you'll find Nick Adam making sure all is running smoothly.
Although Route 66 was officially removed from the U.S. Highway system in 1985, baby boomers won't let it disappear. Portions of the Mother Road that pass through Illinois, Missouri, New Mexico and Arizona have been designated Historic Route 66, and appear once again on state maps.
Copyright ©2006-2009 Benjamin Prepelka
All Rights Reserved