Scenic USA - Idaho
Scenic USA offers a collection of select photographs from a wide variety of attractions, points of interest, historic sites, state and
national parks found throughout the United States. Each photo feature is coupled with a brief explanation.
For further detailed information, links to other related sites are provided.
Ingeborg Lake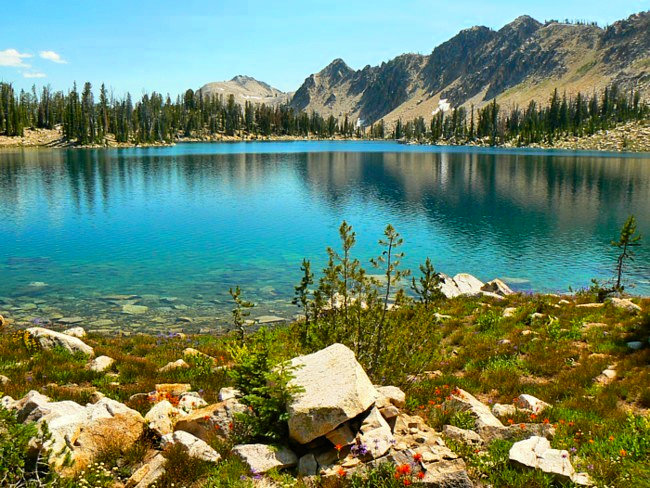 Idaho, rippled with 80 cataloged ranges, is considered the most mountainous of all the Rocky Mountain States. Central Idaho is dominated by the Boulder, White Clouds and the famous Sawtooth ranges. This rugged central section of the state is covered in national forest and wilderness lands, only marred with a limited amount paved highways and resort towns.
Idaho's Route 75, making a sharp dog leg at Stanley, seems to separate the Sawtooth National Recreation Area from the Sawtooth Wilderness. A big difference between the two is access roads. Here in the Sawtooth Wilderness visitors must rely on their two feet or help from an equine accomplice. Taking time to learn backcountry etiquette helps deal with pressure in this once pristine land. Now, tens of thousands visit these two national treasures, some totally unaware of the principle of leaving no trace. This area of the Stanley Basin is adorned with majestic mountain scenery, countless clear mountain streams, mountain meadows and over 300 alpine lakes (such as this beautiful view of Ingeborg Lake). The wilderness must be enjoyed responsibly, ensuring the next generation the same opportunities.
Copyright ©2009 Benjamin Prepelka
All Rights Reserved