Scenic USA - Oregon
Scenic USA offers a collection of select photographs from a wide variety of attractions, points of interest, historic sites, state parks and
national parks found throughout the United States. Each photo feature is coupled with a brief explanation.
For further detailed information, links to other related sites are provided.
Rogue River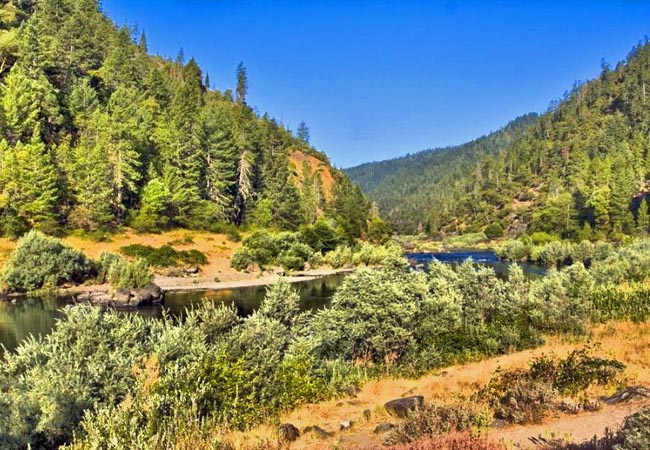 The strong forces of weathering and erosion, coupled with the processes of volcanism and mountain building are responsible for a dramatically different planet than one that existed a billion years ago. Here in southwest Oregon, these same forces were at work for millions of years, transforming a relatively tame Rogue River into one of West's most famous raging rivers. With the rise of the Pacific Coastal Range, the Rogue River began a steady progression of deepening its river channel. The Rouge River Canyon now reaches depths of over 3,000 feet, slicing through one of the richest conifer forests on the continent.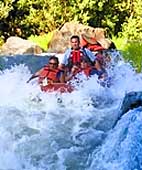 One of eight original rivers receiving the designation of wild and scenic, the Rouge begins at Crater Lake and heads westward to the Pacific Ocean. Strong populations of steelhead and salmon, black bear and black-tailed deer, plus eagles and osprey certainly convey this wild and scenic atmosphere.
Thanks to a series of dams and reservoirs, a steady stream of whitewater creates one of the most popular rafting and kayaking runs in the world. Rapids range from Class III to Class IV, with the Middle Chute of Rainey Falls (You Tube) pegging the fun meter. With all the whitewater mileage here, one would think the river received its name from its roguish behavior. Well, thatís not case at all. Seems the area's Native Americans were unwilling to give up this magnificent canyon to miners and settlers (who can blame them?), earning the name Rogue Indians.
Copyright ©2010 Benjamin Prepelka
All Rights Reserved