Scenic USA - Pennsylvania

Washington Crossing Historic Park
---
---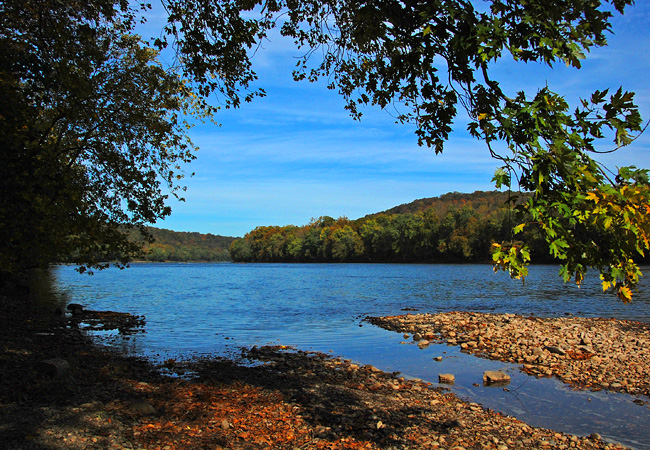 First European to settle on the Delaware River near present day New Hope,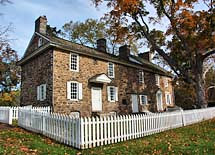 fur trader John Pidcock relied on the river to move his goods and trade with area natives. And soon thereafter Pidcock became the first settler to stake his claim on the property. When Quaker John Simpson acquired the land in 1740, he built a modest stone house and grist mill. Simpson died soon thereafter and his miller stayed on, marrying widow Simpson and establishing a thriving farm and milling complex. Enjoying much success, Robert Thompson enlarged the original house, making room for his daughter and son-in-law, William Neely.
   Across the Delaware, General Washington suffered humiliating defeats in New York, and retreated with his troops through New Jersey.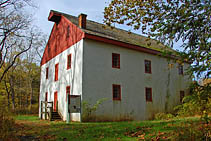 Making a safe camp along the Delaware River in Pennsylvania, the Thompson-Neely Home served as a temporary hospital, tending to Washington's troops and two notable patriots, James Monroe and William Washington. A turning point in America's history occurred on Christmas Day, 1776. Strengthened by the watchword, Victory or Death, Washington crossed the Delaware River with 2400 men and marched on Trenton in the sleet and snow.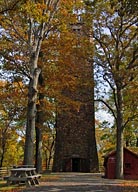 Washington Crossing Historic Park interprets this famous crossing and preserves the miller's house and grist mill. The second mill on Pidcock Creek stayed in the Neely family until 1880. Restored to its 1830ís appearance, today's mill features an overshot water wheel and Oliver-Evans-style grain elevators. Nearby, the Bowman's Hill Tower was built in 1931 to commemorate the hill's historic role in American history. Reaching 380 feet above sea level, the Bowman Hill was often considered the lookout point for Washington's troops. The Pennsylvania park commission developed the park as a historic shrine, with its secondary role to preserve the area's natural beauty. Created in 1917, the park also honors the famous Crossing Point and the turning point of the American Revolution.

     Area Map
---
| | |
| --- | --- |
| Additional Area Attractions | Scenic USA Prints from Fine Art America |
---
Copyright © 2013-16 Benjamin Prepelka
All Rights Reserved