Scenic USA - Wyoming

Hell's Half Acre
---
---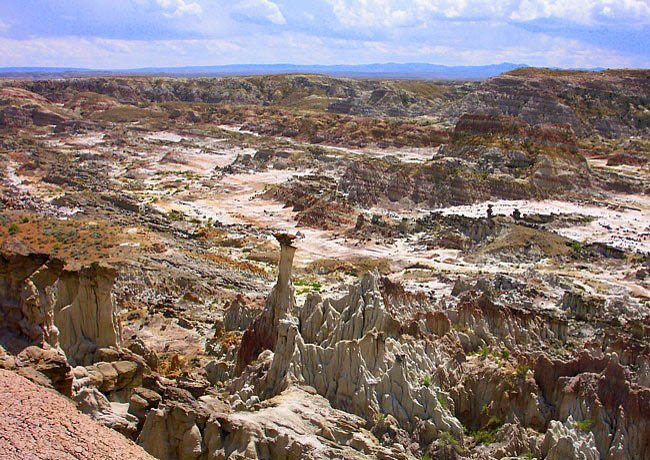 Halfway between the towns of Casper and Shoshoni, and squeezed between the Rattlesnake and Bighorn mountains,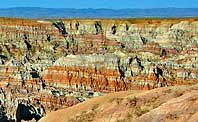 Wyoming's Hells Half Acre is a roadside oddity. Found in a relatively flat Powder River Valley, the unusual horseshoe shaped canyon is filled with a varied assortment of spires, gulches and strangely shaped white clay and shale rock formations. Although this Hell's Half Acre is probably the most famous, there are more are spread throughout the country, some authentic and some very unofficial.
While the canyon's rock collection, with its pastel hues of yellow, pink, white and orange striations, were enough to attract a motel and restaurant at one time, the establishments are closed and the 150 foot deep ravine has been fenced off by the county.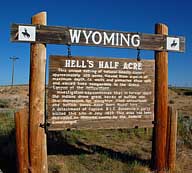 Part of a thousand acre tract donated by the Federal Government in 1924, a group of geology, archeology and history enthusiasts were allowed to drive into the canyon to study what could be done with the property. Now a day park with just a few picnic tables, the area may deserve more than what it offers today. Here, where Native Americans drove buffalo over the rim to their death during hunts, some now believe the Hell's Half Acre is logical location for an archeological interpretative center.
Once known as The Devil's Kitchen, The Pits of Hades, and The Baby Grand Canyon, this 300 acre badland canyon is so different from the surrounding countryside it's considered a geographic oddity. Formed long ago by the forces of the Powder River and finishing touches applied by wind driven erosion, this geological wonder puts on a striking display during the early morning or late afternoon when deep shadows accentuate the rumpled gorge. Once avoided by superstitious Indians and trappers, today's occasional visitor is drawn in by the unusual name.

Area Map
---
| | |
| --- | --- |
| Additional Points of Interest | |
---
Copyright © 2008-15 Benjamin Prepelka
All Rights Reserved