Scenic USA - Pennsylvania
Scenic USA offers a collection of select photographs from a wide variety of attractions, points of interest, historic sites, state parks and
national parks found throughout the United States. Each photo feature is coupled with a brief explanation.
For further detailed information, links to other related sites are provided.
Grand Canyon of Pennsylvania
Pine Creek Gorge is sometimes referred to as the Grand Canyon of Pennsylvania. This scenic view takes in some of the 165,000 acres of Tioga State Forest and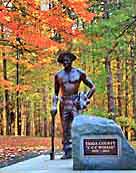 Pennsylvania's colorful hardwood and conifer forest. The National Park Service has designated a 12 mile section of the canyon as a National Natural landmark.
The canyon overlook presents a grand view of the gorge and the 800 foot drop to the river below. For those wanting a closer look can take the Turkey Path Trail to the canyon floor from the Leonard Harrison State Park on the east rim. Colton State Park offers similar views from the west rim. Both parks are reached from Wellsboro, Pennsylvania and offer over 20 miles of trails, as well as boating, swimming, hiking and camping.
Copyright ©2006 Benjamin Prepelka
All Rights Reserved