Scenic USA - Massachusetts
Scenic USA offers a collection of select photographs from a wide variety of attractions, points of interest, historic sites, state parks and
national parks found throughout the United States. Each photo feature is coupled with a brief explanation.
For further detailed information, links to other related sites are provided.
Pilgrim State Park
Plymouth Rock has been chipped away by souvenir hunters,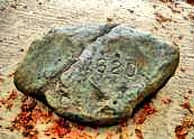 carved upon,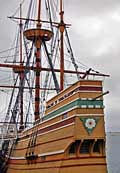 moved several times and broken into two large sections over the last three centuries. Doubts about its authenticity abound, although Elder Faunce, Plymouth's record keeper, was certain that the rock was the first solid ground that the Pilgrims set foot upon in 1620 when the Mayflower arrived.
Today, the rock has been moved back to the bottom of Cole's Hill and is surrounded by a fitting Ionic portico along a picturesque, seaside promenade. This landmark and replica Mayflower are part of Pilgrim State Park, found south of Boston, Massachusetts.
Copyright © 2006 Benjamin Prepelka
All Rights Reserved