Scenic USA - Pennsylvania

Adams County Round Barn
---
---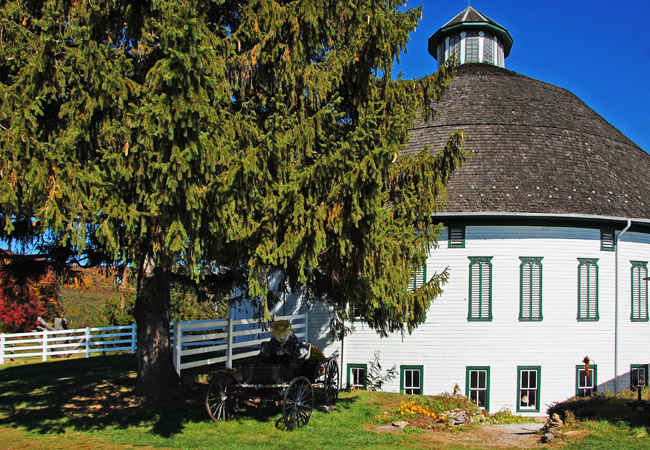 Some of the first American round barns were built by Shakers in the early 1800s.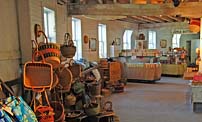 Avoiding square corners where the Devil could hide, the Shakers believed the circle was the perfect shape. A rarity today, true round barn survivors number around 100. Most of these unique structures were built in the early 1900s with a majority now found in Indiana, Iowa and Illinois.
   Here in Pennsylvania's Adams County nearby Gettysburg you'll find a fine representation of a true round barn.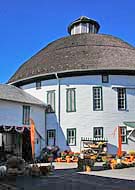 Inspired by plans from the University of Illinois, the Sheely family chose a round barn design. The plans for the barn were drawn up by Chambersburg architect, Morris Rhodes. Raised during a time when rural residents relied on hand labor and old-fashioned mule-power. Chestnut, oak and hemlock trees were logged on site, dressed at the farm sawmill, and dragged by mule to Chambersburg to be finished.
   Completed in 1914, the barn was built around a center silo, large enough to hold 145 tons of silage. The roof over the second story was supported by 37 foot long timbers and covered with slate.
   The Sheely farm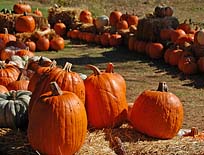 was one of the first commercial apple groves in the county, tending nearly 2000 acres of trees. The farm stayed in the Sheely family until 1985, when the Knouse family purchased the farm. The Knouse Fruitlands Company brought the orchards back into production, renovated the old round barn and opened a farm market in the barn. Today the historic Round Barn is a special stop during October's apple harvest and Halloween season. Along with a large variety of apples, the farm market offers fresh squeezed apple cider, pumpkins, gourds, Indian corn and fall decorations.

     Area Map
---
| | |
| --- | --- |
| Additional Points of Interest | Scenic USA Prints from Fine Art America |
---
Copyright © 2013-16 Benjamin Prepelka
All Rights Reserved