Scenic USA - Wyoming

Medicine Wheel Passage
---
---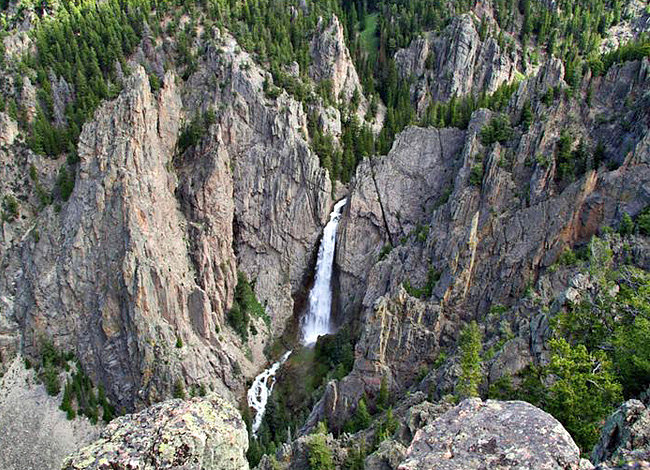 Heading west out of Dayton, Wyoming, U.S. Route 14 follows the Tongue River toward Burgess Junction. Here, Route 14 heads southward to Granite Pass, while U.S. Route 14A leads west to Bighorn Lake. Named for the Medicine Wheel National Historic Site, a section of Route 14A has been dubbed Medicine Wheel Passage, one of Wyoming's 19 scenic byways. Totaling 27 miles in length, the byway begins at Burgess Junction, climbs Summit Pass and continues through the Bighorn National Forest.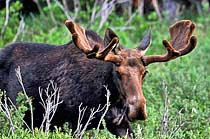 Made up of more than a million acres, the Bighorn Forest offers 1500 miles of trails, numerous fishing lakes, 32 campgrounds, an exciting variety of wildlife and a rich Native American history.
Several side trips from Route 14A add a few more byway points of interest and great places for byway travelers to stretch their legs. From the main highway, Sheep Mountain Road and Devils Canyon Road lead to the Bucking Mule Falls Trailhead. This weekender's hike leads to three dramatic canyons and two waterfalls. Passing through mountain meadows, dense pine forests and small alpine streams, the falls overlook is just about 2.5 miles into the hike. Either a destination or a fantastic place to rest, the Bucking Mule Falls drops 600 feet for this impressive photo (above) op. For those well-prepared hikers, continuing on the trail leads to Devils Canyon and Porcupine Falls.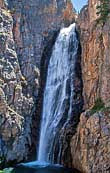 Choosing driving over hiking? The Porcupine Falls Trailhead is located on FSR 149 from Devils Canyon Road. A half mile trail quickly descends to the head of Devils Canyon where the 200 foot thundering Porcupine Falls (inset) drops from the cliff tops.
Continuing on the byway westward over Summit Pass, a stop on Medicine Mountain offers a firsthand look at the 80 foot Medicine Wheel. Just a few miles north from the byway on FR12, a two mile walk leads out to this sacred site. The circular arrangement of limestone rocks is connected to a central hub with 28 rays or spokes. Studied by astronomer John Eddy in 1972, theories suggest the geoglyph represents earth, the sun, moon and cycles of life. Various rock cairns are aligned to pre-Columbian solar events, dating the structure to a period between 1200 and 1700. The Forest Service has roped off the area to keep the wheel from further damage. Here along the rope barrier, prayer cloths wave on the Medicine Mountain winds.

Sheep Mountain Road Map
Byway Map
---
| | |
| --- | --- |
| Additional Points of Interest | |
---
Copyright © 2013-16 Benjamin Prepelka
All Rights Reserved