Scenic USA - Wisconsin
Each day Scenic USA presents a new and exciting photo feature from somewhere in the United States. Chosen from a wide variety
of historic sites, city scenes, backcountry byways, points of interest and America's best parklands, this site offers the viewer hundreds
of unique travel destinations and vacation ideas. Each feature is coupled with a brief explanation. For further detailed information, links
to other related sites are provided, but are never to be considered an endorsement.
Flambeau River Farm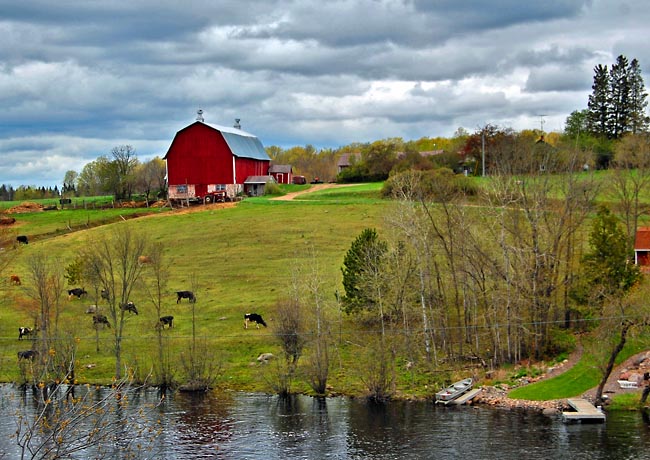 Tourism in Wisconsin's Sawyer County generates over 100 million dollars per year, and contrary to a strong belief, agriculture lags behind. Generating only half that in annual agriculture revenue, livestock and crops of hay, corn, soybean, wheat and oats are tops on the list of farm production. And don't forget this is Wisconsin, land of cheeseheads; so it is not a surprised to learn Wisconsin's dairy industry is second only to the huge state of California.
This Flambeau River farm borders on Flambeau River State Forest. First established in 1930 with 3600 acres, today's forestland has taken over 90,000 acres. Its unusual name, meaning torch in French, is thought to date back to the Colonial era when French trappers witnessed Chippewa natives fishing at night by torchlight. Today the river is best known among canoeists for its outstanding canoe-camping excursions. Its outstanding scenery, fishing and mid-level whitewater often entice Mid-Westerners on river trips that last a week or more. The South Fork offers more challenging Class III rapids. Both north and south forks run through nearly 75 miles of Flambeau River forest beauty. It's said that there is a stretch of river for everyone, young and old, beginner or pro.
Copyright ©2011 Benjamin Prepelka
All Rights Reserved