Scenic USA - Ohio

Bear's Mill
---
---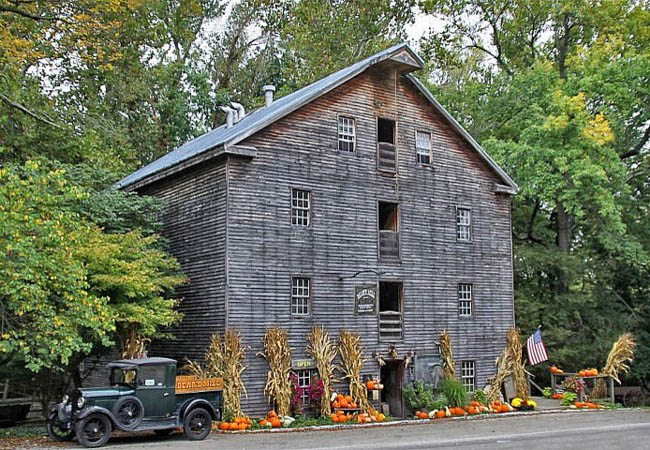 During the late 1700s, American settlers moved across the Appalachian Mountains and settled in the Ohio Territory in ever increasing numbers.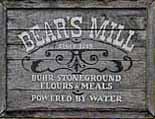 Despite the conflicts with American Natives, the big push westward proved endless. Log homes and farm structures rose up from the woodlands. Mills and trading post were centered on some of the most advantageous sites. In 1849, Gabriel Baer moved from Pennsylvania to Ohio's Darke County to purchase a mill site on Greenville Creek. A new mill building was in the initial stages of construction, when Baer, his son and son-in-law took over. The mill building, utilizing post and beam construction,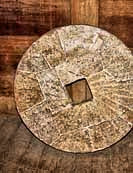 was supported with enormous hand-hewn beams. Unmatched today, the wooden beams measure 12" x 16" by 50 feet in length, and run the entire length of the mill.
For the Cadillac of millstones, Baer traveled to France to secure three buhr stones. Weighing as much as a ton each, the French millstones were shipped across the Atlantic and eventually completed their two year journey over a rugged terrain that lacked today's modern roads.
Although the mill property has changed hands numerous times since the Baers took over in 1848, the grist mill managed to continually grind grain over the last 150 years. One of the oldest structures in Darke County, the mill's siding eventually needed restoration.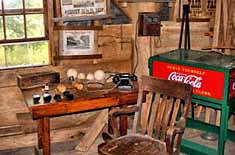 A local supplier, Frank Miller Lumber, furnished enough black walnut to help replace the building's original siding. Talk above the labor of love, a volunteer workforce helped shape the walnut planks and replace all the sheathing on the four story building.
The mill, mill store and art gallery are open throughout the year. Visiting during the fall open house, held in early October, is a great way to view the mill machinery in action. Your visits will help support the mill and fund some of the maintenance on this historic structure.

Area Map
---
| | |
| --- | --- |
| Additional Points of Interest | |
---
Copyright © 2011-16 Benjamin Prepelka
All Rights Reserved