Scenic USA - Maine
Scenic USA offers a collection of select photographs from a wide variety of attractions, points of interest, historic sites, state and
national parks found throughout the United States. Each photo feature is coupled with a brief explanation.
For further detailed information, links to other related sites are provided.
Bug Light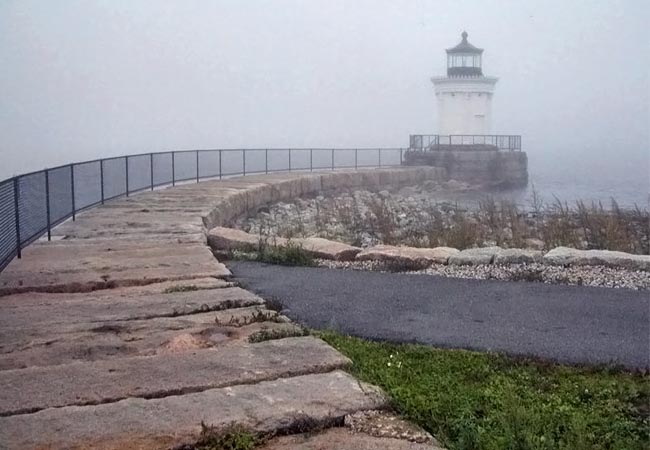 Looking to protect Maine's Portland Harbor from further severe storms, a local contractor placed a rubble stone breakwater into a section of the harbor entrance. Money ran out before an ashlar capstone was completed over the 1,800 foot length of the breakwater. Eventually, when a lighthouse was placed to mark the breakwater's end, light-keepers had a difficult time getting out to the tower even in calm weather.
In 1874, Congress approved 6,000 dollars for a permanent lighthouse. Employing one of Maine's most elegant designs, the Portland Breakwater Lighthouse took on details of the 4th Century BC Choragic Monument of Lysicrates. The 26 foot cast iron tower was decorated with six Corinthian columns and roof edging called palmettes.
Today, the 134 year old lighthouse, known as The Bug, is the centerpiece of Bug Light Park. Under the care of the South Portland Rotary Club and the Spring Point Ledge Lighthouse Trust, the refurbished lighthouse was relit during a ceremony in 2002.
Copyright ©2009 Benjamin Prepelka
All Rights Reserved