Scenic USA - Maine
Scenic USA offers a collection of select photographs from a wide variety of attractions, points of interest, historic sites, state and
national parks found throughout the United States. Each photo feature is coupled with a brief explanation.
For further detailed information, links to other related sites are provided.
Spring Point Ledge Lighthouse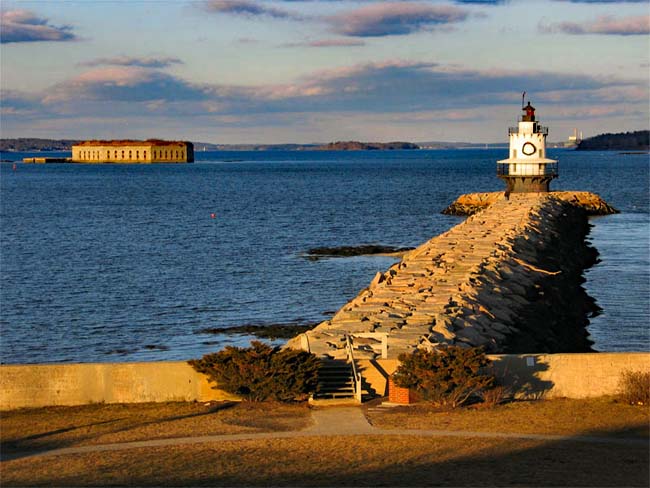 Photo by Robert O'Connell

This stout and sturdy looking cast iron lighthouse came about after years of begging from unlucky captains and members of the maritime industry. Seems a dangerous rock ledge, blocking the western main shipping channel into Portland, caused considerable hull damage over the years. Once the project was partially funded, construction efforts met with foul weather and contractor-inspector squabbles.
Finally the kerosene light was lit on May 24, 1897. The granite breakwater wasn't set in place for another half century. The U.S. Coast Guard turned over this light to the Spring Point Ledge Light Trust in 1998. By 1999, the first tours of the lighthouse were conducted, showing off the unique lighthouse. The first floor was used for storage. The beacon, with a focal plane of 54 feet, broadcasts a narrow white beam, showing proper position in the channel. Outside the channel, the light shines a red beam on both sides, cautioning marine traffic of improper alignment. The breakwater not only provides easy access to the lighthouse, but doubles as a great fishing pier and picnic area. The breakwater is a great place to watch boat traffic and enjoy the Maine coast around Portland.
Copyright ©2009 Benjamin Prepelka
All Rights Reserved