Scenic USA - Michigan
Scenic USA offers a collection of select photographs from a wide variety of attractions, points of interest, historic sites, state and
national parks found throughout the United States. Each photo feature is coupled with a brief explanation.
For further detailed information, links to other related sites are provided.
Holland Harbor Lighthouse - Big Red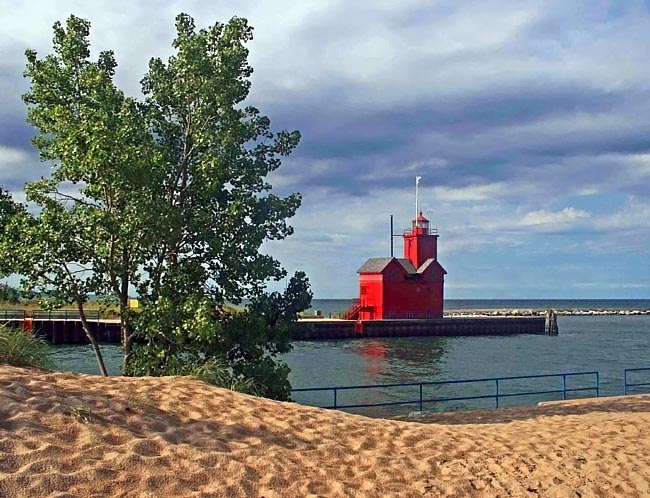 Dutch emigrants, lead by Rev. A.C. van Raalte, found an ideal location along the western shore of lower Lake Michigan. The new settlement, naturally named Holland, was centered around the Black Lake and river, their important connection to Lake Michigan. Federal Funds to dredge the shallow Black River were slow to come and the impatient Dutch settlers took it upon themselves to open the channel. The new harbor opened to lake traffic in 1859, providing access to Black Lake, later having its named changed to Macatawa. Over the years the channel was marked with a patchwork of beacons, piers and fog signals.
Big Red, marking the entrance to Black Lake, was a nickname picked up soon after the Coast Guard applied its official beacon-red paint in 1956. The popular Holland Harbor Lighthouse serves no commercial purpose today, having been abandoned by the U.S. Coast Guard in 1972. Holland residents feared that the lighthouse may be lost for good and quickly banded together, forming the Holland Lighthouse Commission in 1974. Their beloved icon was saved, and now continues to add another interesting feature to the Holland Park area.
Copyright ©2007 Benjamin Prepelka
All Rights Reserved