Scenic USA - Michigan
Scenic USA offers a collection of select photographs from a wide variety of attractions, points of interest, historic sites, state and
national parks found throughout the United States. Each photo feature is coupled with a brief explanation.
For further detailed information, links to other related sites are provided.
Grand Haven Light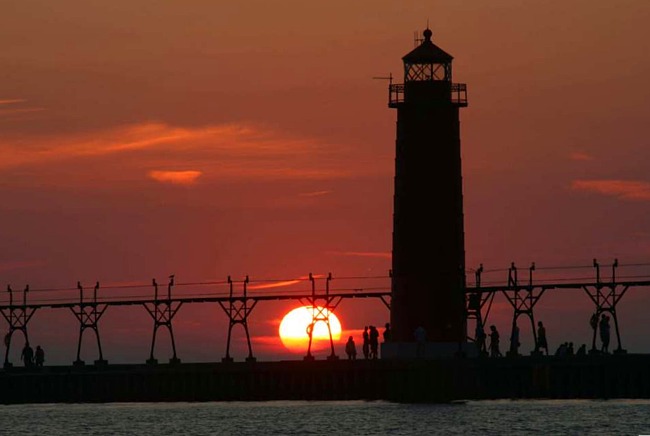 The bright red Grand Haven Light has cooled off in this evening view on Lake Michigan. Pictured here is one of the two beacons affixed to the Grand Haven Pier, marking the entrance to a natural harbor on the east shore.
America's late 17th century saw additional eastern colonies established, while French fur traders worked deep in the North America continent and Great lakes region. Here in a land called Gabagouache, a river carved out a natural harbor. The Grand River, Michigan's longest, made for easy access into the interior, a land rich with fur bearing animals. This Grand Haven Harbor was the site of one of the areas first trading posts, where exchanges between the French and Native Indians became commonplace.
It would be another 150 years before settlers moved into the area from the east. It was then when the first lighthouse was established in the year of 1839. The harbor was easily recognized as a grand haven from the occasional rough seas of Lake Michigan. The current 51 foot steel clad tower was built in 1905, with the outer beacon added in 1922. The Grand Haven State Park, found along South Harbor Drive, takes in the area around the light. This glowing scene shows the popularity of the pier and harbor.
Copyright ©2008 Benjamin Prepelka
All Rights Reserved