Scenic USA - Maine

Grafton Notch Byway
---
---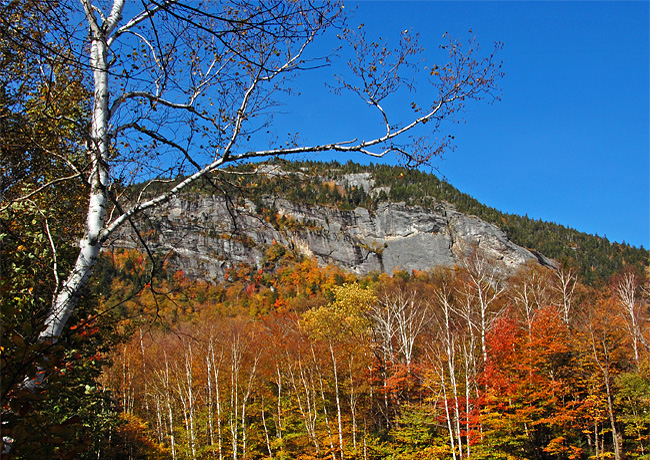 From Newry, western Maine Grafton Notch Byway travelers will follow Route 26 to Upton and the New Hampshire border.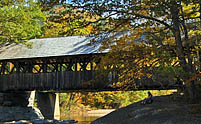 This 21 mile scenic byway parallels the Bear River for the majority of the route and highlights a rugged Mahoosuc Mountain Range, area waterfalls, swift flowing streams and a glacial scarred Grafton Notch. Although the byway is relatively short, the area loaded with scenic wonders, hiking trails and several zones of Maine's birding trail. While peregrine falcons nest on the cliffs, boreal chickadees are found at the north end of Grafton Notch State Park. At higher elevations park birders may spot gray jays, spruce grouse, yellow-bellied flycatchers, bay-breasted warblers, and blackpoll warblers. Bicknellís thrushes are present throughout the Krummholz Zone here in the Mahoosuc Range.
   Just south of Newry at North Bethel, the byway tour begins with a little side trip to the Sunday River Bridge. Here you'll find out why this historic covered bridge has earned the nickname Artist's Covered Bridge. Just to the north, the Bear River is funneled through a narrow gorge.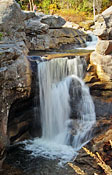 The well named Screw Auger Falls twists its way down a chute, dropping 23 feet into a small plunge basin. This impressive falls is just a short distance from the highway, but it's still a very rugged and a dangerous setting. Here, itís imperative that children are well supervised. A short distance northward, the Bear River is forced into a V-shaped gorge nearly 1000 feet long. The river roars over huge boulders, briefly pausing in shallow pools as it drops nearly 100 feet in a fast flowing cascade. Named for a long-time local resident, Mother Walker, the falls is another roadside stop. Heading northward, the next highlight is Grafton Notch, a convenient mountain pass sliced open by glaciers about 12,000 years ago. Hikers will find trails on both sides of the byway. And just to illustrate the ruggedness of the area, Appalachian Trail hikers find the Grafton Notch region of the 2000 mile trail the most challenging. This section of the AT is often described as one of the most scenic experiences of the five month long trek.

    Area Map
---
Nearby Points of Interest
---
Copyright © 2012-16 Benjamin Prepelka
All Rights Reserved