Scenic USA - Texas
Scenic USA offers a collection of select photographs from a wide variety of attractions, points of interest, historic sites, state and
national parks found throughout the United States. Each photo feature is coupled with a brief explanation.
For further detailed information, links to other related sites are provided.
Caddo Lake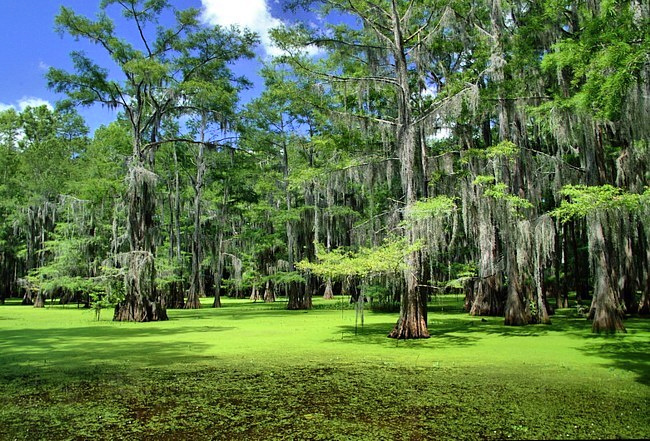 Caddo Lake, a huge expanse covering over 26,800 acres, spills across the border of east Texas and Louisiana. Decorated with lengthy strands of Spanish moss, bald cypress trees stretch high above Caddo's dark waters. This view catches the watery wilderness covered in a mat of invasive aquatic plants that obscure many miles of boat channels. The maze of water-trails can become a confusing tangle, with one turn looking the same as the last. The state has marked 42 miles of these boat roads, enticing anglers into the backwater, searching for deep holes and small coves that hold huge catfish and largemouth bass.
Caddo Lake State Park, just a few miles east of the charming town of Jefferson, offers 480 acres alongside Caddo Lake. The park is set up with campsites, cabins, nature and hiking trails. Even with all the added amenities, the park's top draw is still the superb fishing.
The Caddo Lake area was once occupied by a tribe of Native Americans, giving their name to the region. Geologist's studies indicate the lake was created as a result of an earthquake forming a natural dam. According to the Caddo Indian legend, the Great Spirit forewarned the tribe of a great earthquake, sparing their lives.
Copyright ©2006-2009 Benjamin Prepelka
All Rights Reserved