Scenic USA - Nebraska

Fort Robinson State Park
---
---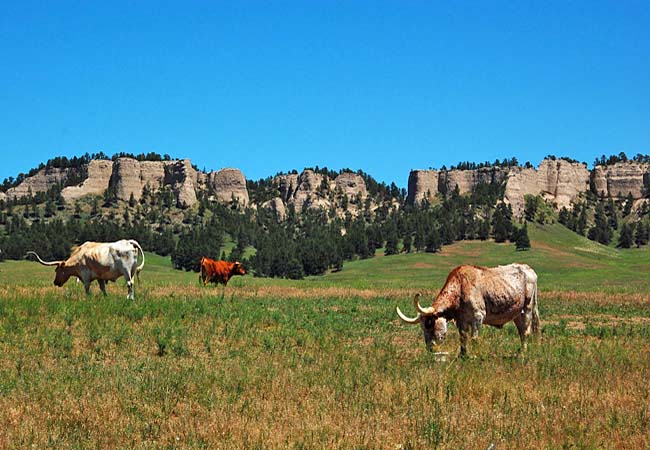 Located in Nebraska's panhandle, Fort Robinson State Park offers 22,000 acres of picturesque high plains scenery, a serious chapter of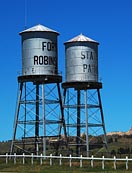 old west history and a wide variety of outdoor entertainment. Taken over by the state following the fort's closure post World War II, the park utilizes the old buildings of the largest quartermaster remount depot in United States history.
   Fort Robinson was established in 1874 at the site of the second Red Cloud Agency, a forerunner of an Indian reservation. Named for Lt. Levi H. Robinson who was killed by Indians, the fort was placed on the high plains to control further Indian hostilities.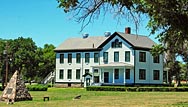 Today, the fort's history is preserved by the State Historical Society, who operates a museum in the park and is instrumental in restoration of the fort's buildings. A perfect site for youth groups and adult retreats, the park offers horseback riding and jeep tours among the pine ridges and sandstone bluffs.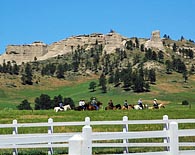 Special hayrack breakfasts, steak cookouts, and campfire sing-alongs are a perfect fit in this Old West setting. With its vast assortment of overnight facilities, individuals and groups may utilize lodge rooms, cabins, officer's quarters, halls and barracks which accommodate up to 60 people.
   Here, where the buffalo and longhorn still roam, Fort Robinson is Nebraska's largest and most popular park. With the spirit of the Old West still in the air it's easy to imagine a line of Lakota Sioux warriors on horseback lined along the cliff tops, or a long ribbon of U.S. Cavalry Bluecoats thundering across the dusty plains.

    Area Map
---
| | |
| --- | --- |
| Additional Points of Interest | |
---
Copyright © 2013-16 Benjamin Prepelka
All Rights Reserved