The name Talladega most likely surfaces among race fans. Talladega Superspeedway, located in Talladega, Alabama, is the largest and fastest oval race track used in the Sprint Cup Series, thrilling fans since the 1960s.
Another, even larger Talladega is found at the southern edge of the Appalachians. This central Alabama national forestland covers almost 400,000 acres. Heavily logged during the decades around 1900, the federal government took control of the heavily abused land in 1930. The Talladega National Forest surrounds Alabama's highest peak, Cheaha Mountain. At 2,407 feet, the peak overlooks 10,000 acres that make up Cheaha State Park and Cheaha Wilderness.
Cheaha State Park,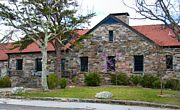 one of Alabama's oldest parks, first opened in 1933. The Civilian Conservation Corps was instrumental in building Cheaha Lake and its stone bath house, eleven cabins, picnic pavilions, the Bunker Tower, and the Bald Rock Lodge.
Today the park's updated facilities include a restaurant, general store, 73 modern campsites, and hiking trails. For those visitors seeking more comfort than a campsites, there's the 30 room Cheaha Lodge, complete with a swimming pool. The highest point in the park is the observation deck at Bunker Tower. Nearby Bald Rock, with its wheelchair-accessible wooden walkway, easy access is provided for all to enjoy the scenic overlook and wonderful sunrise views.