Scenic USA - Hawaii
Scenic USA offers a collection of select photographs from a wide variety of attractions, points of interest, historic sites, state and
national parks found throughout the United States. Each photo feature is coupled with a brief explanation.
For further detailed information, links to other related sites are provided.
Diamond Head Light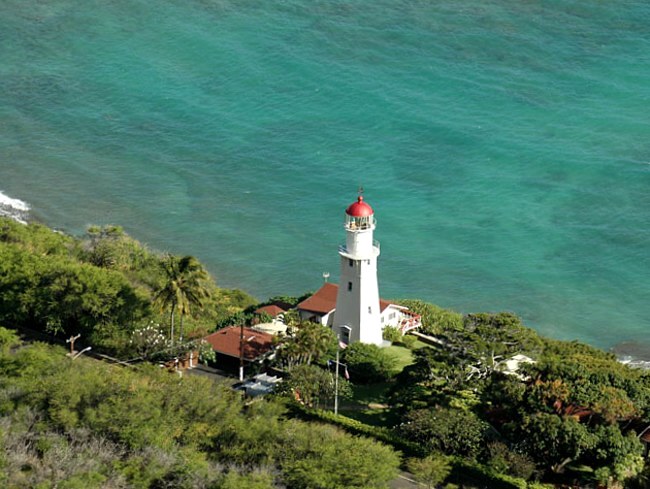 Named for the sparkling crystals found on the volcanic cliffs of Oahu, Diamond Head is one of the most famous names in the Hawaiian Chain. The prophetic name, Oahu (the gathering place), is now home to three-fourths of all the Hawaiian Island residents. Located on a promontory on Oahu's southern shores, Diamond Head bares the remnants of an ancient crater, creating a steep and rugged coastline.
Adjacent to Waikiki and Honolulu, this famous point was a concern to late 19th century mariners. Two successive shipwrecks prompted the Minister of the Interior, Captain James King, to petition for a lighthouse. An open steel tower was erected in 1898, then enclosed with walls of coral rock. The lighthouse, noted as a first class light-station, was found with structural cracks during a 1916 inspection. Funds were appropriated for a new structure, allowing for construction of a reinforced-concrete tower. An accompanying light-keeper's dwelling was erected in 1921, only to be used for three years before the light was automated.
The Diamond Head Lighthouse, built on the cliffs of a dormant volcano, offers no public access. Most views of the light come from overhead, atop Diamond Head. The beacon was built 147 feet above sea level and shines up to 18 miles out into the Pacific, but is seldom seen from the adjacent Waikiki Beach.
Copyright ©2006-2009 Benjamin Prepelka
All Rights Reserved