Scenic USA - Kentucky
Scenic USA offers a collection of select photographs from a wide variety of attractions, points of interest, historic sites, state and
national parks found throughout the United States. Each photo feature is coupled with a brief explanation.
For further detailed information, links to other related sites are provided.
Cumberland Gap National Historic Park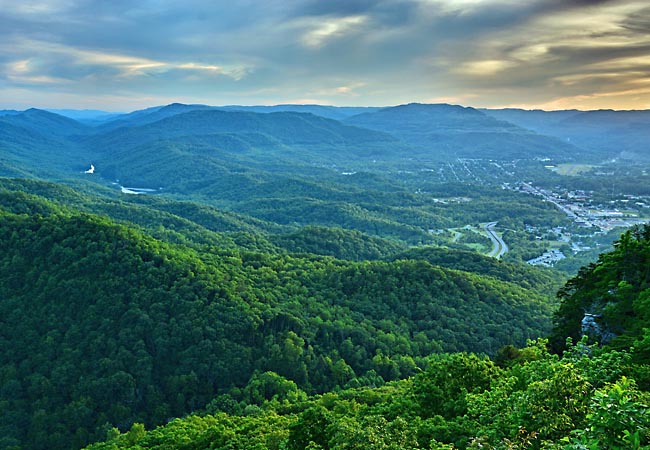 During the late 1700s, moving westward in America meant crossing the Appalachian Mountains. Dr. Thomas Walker was one of the first easterners to document a crossing point, the Cumberland Gap. A few decades later the trail through the gap was blazed by the famous pioneer, Daniel Boone. The Wilderness Road opened up the west, as settlers seem to stream into Kentucky and the Ohio River Valley. Between 1780 and 1810, an estimated quarter of million restless pioneers headed through the gap, in search of new land.
The Cumberland Gap National Historic Park paints a fascinating look at this transformation of America. The National Park Service had also taken on the monumental task of removing the gap highway and restoring the area to its former appearance. After the U.S. Route 25E tunnel was completed, the parks service moved on to reestablish the Wilderness Road as it once was.
This view looks northward into Kentucky from Pinnacle Road, atop Cumberland Mountain. Here, the park spans the borders of Kentucky, Tennessee and Virginia.
Copyright ©2008 Benjamin Prepelka
All Rights Reserved