Scenic USA - Washington
Scenic USA offers a collection of select photographs from a wide variety of attractions, points of interest, historic sites, state parks and
national parks found throughout the United States. Each photo feature is coupled with a brief explanation.
For further detailed information, links to other related sites are provided.
Thorpe Mountain Lookout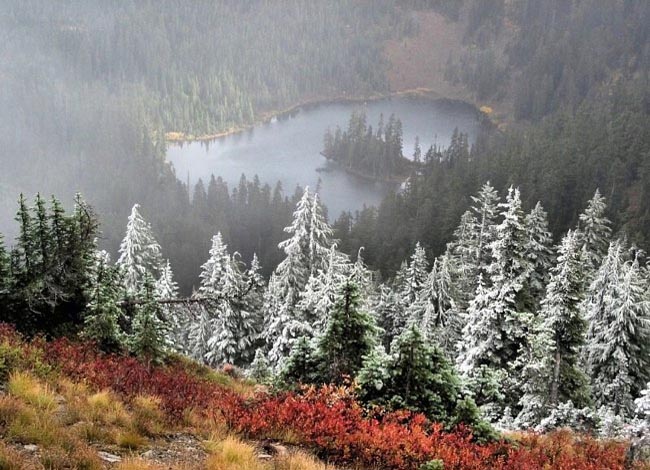 Lost on the center crease of a Washington State road map, youíll find Thorpe Mountain Lookout just to the north of I-90, nearly dead-center in the state. A marvelous day hike climbs a little more than 1600 feet from the Knox Creek Trailhead. On the trail to Thorpe Mountain, hikers pass through sagebrush and pine covered slopes at lower elevations. With altitude changes, the scenery shifts to alpine fir, mountain huckleberry, open hillside meadows, and large granite outcroppings. Raptors, migrating through the eastern Cascade Mountains, typically tally between 2000 to 3000 per season. Common species include the Sharp-shinned Hawk, Red-tailed Hawk, Cooper's Hawk, Northern Harrier, Golden Eagle, and American Kestrel. In this frosty view, early signs of winter white have muted fall's boisterous colors. Today, low clouds diminish views of the stately peaks of nearby Mount Stuart, and Mount Rainier to the southwest.
Heading north from Exit 80, Route 903 leads into the Wenatchee National Forest and the Wenatchee Mountains. The U.S. Forest Service, finding Thorpe Mountain the perfect viewpoint, erected a lookout post in 1931. Situated at a junction of Kachess and No Name ridges, Thorpe Mountain views extend in all directions.
Parking for this hikerís challenge requires a Northwest Forest Pass (essentially a trailhead parking permit). Most route directions begin at Roslyn and take about 20 miles of driving to the trailhead. Maybe this enticing view has piqued your interest.
Copyright ©2010 Benjamin Prepelka
All Rights Reserved