Scenic USA - Washington
Scenic USA offers a collection of select photographs from a wide variety of historic sites, points of interest, and a large
sampling of America's parklands. Each photo feature is coupled with a brief explanation.
For further detailed information, links to other related sites are provided, but in no means should they be considered an endorsement.
Northwest Railway Museum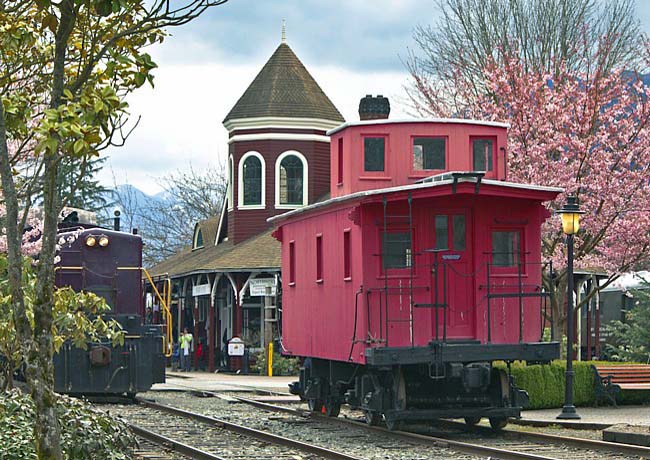 Here in northwestern Washington, just beyond the reaches of the Seattle metro area, rail fans will find the Northwest Railway Museum. The museum, housed in the 1890s Snoqualmie Depot, allows visitors to pick up their tickets from the original ticket window for a trip on the Snoqualmie Valley Railroad Excursion Train. Rail fans may also discover how the railroad changed the state of Washington forever.
Snoqualmie Depot visitors come to see and experience the excitement of railroading, the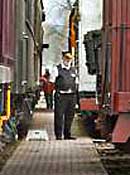 enjoyment of Snoqualmie Valley scenery, and check out the museum displays and rolling stock. Depot restoration not only returned the building to its 20th century appearance, but also included restoration of the distinctive Victorian turret and eyebrow dormers. Inside exhibits and railroading memorabilia make up the largest and most comprehensive railroad museums in the state. Outside, displays of logging and industrial railway equipment, freight and passenger cars, gasoline, diesel and steam powered locomotives keep railroading buffs busy for hours.
Pictured here, accompanied with tree full of spring blossoms, is one of the latest additions to the museum. Thanks to a generous Montana donor, the museum is very proud of the oldest known surviving Great Northern caboose. A gift from the Hoover family, the wooden X101 is open for close up inspections. In the background, you're able to catch a glimpse of the elaborate Snoqualmie Depot.
Copyright ©2011 Benjamin Prepelka
All Rights Reserved