Scenic USA - Virginia

White's Mill
---
---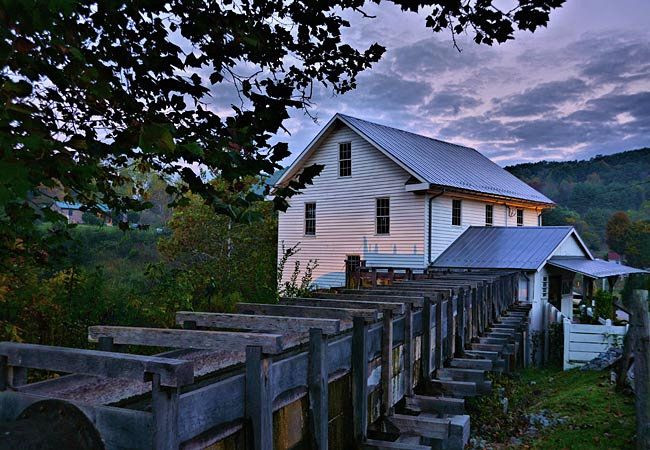 The old fashioned gristmill, mostly relying on waterpower, dotted America's countryside during the 18th and 19th centuries. With hundreds of local streams, Virginia had its share mills, supported by local farming communities.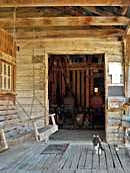 The local mill,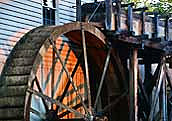 often seen as the center of the community, became a meeting place for the latest news and gossip. Here farmers brought their own grain, leaving a percentage called the miller's toll. Scattered throughout the State of Virginia, quite a few historic mills and mill-sites remain in the state, with Mabry Mill on the Blue Ridge Parkway being the most famous. Although some of these mills are still operational, none may appear more authentic than White's Mill just outside Abingdon. Complete with a mill kitty cat and squeaking floor boards, the mill still provides a variety of flours and cornmeal.
   Powered by a classic overshot wheel, White's Mill began milling grain in the 1790s. Here in Washington County, Abrams Creek provided all the necessary power to produce flour throughout the year. The White's Mill Foundation was established in 1999 with the mission to purchase, preserve and protect White's Mill. A restoration plan was developed in 2001, when the first phase centered on the wooden structure around the foundation. More work was completed on the water wheel and millrace, beginning in 2007.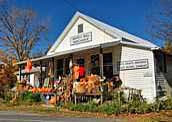 The White's Mill Mercantile is located across the street, full of one-of-a-kind gifts and collectibles. With a portion of the profits directly aiding mill restoration, you'll find local art, including photos, paintings, handmade quilts and candles custom made by local crafters. Root beer and Moon Pies have become favorites with the locals, who stop by often for a snack. You may also take home some old fashioned Southern recipes featuring one or more White's Mill products. Recognized for its historic importance, White's Mill was added to the National Register of Historic Places in 1974. Just outside the town of Abingdon and a short drive from Interstate 81, a visit to White's Mill will truly be a journey back to another century.

    Area Map
---
| | |
| --- | --- |
| Additional Area Attractions | |
---
Copyright © 2011-17 Benjamin Prepelka
All Rights Reserved