Scenic USA - Oregon

Hannah Covered Bridge
---
---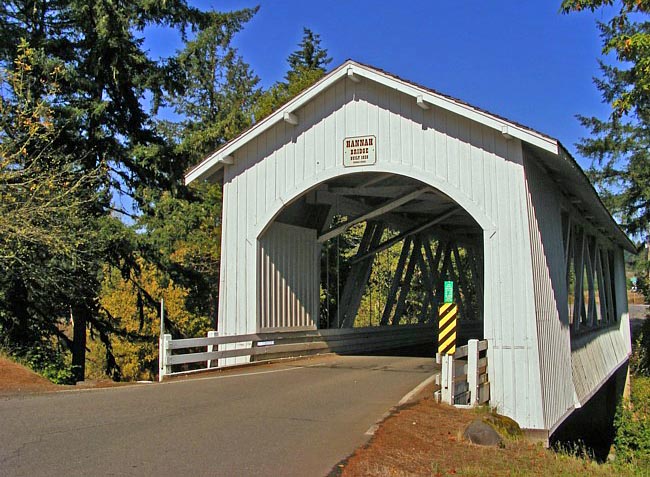 Seen as the Promised Land in America, thousands of settlers moved into the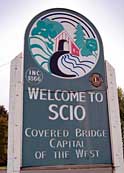 Willamette Valley by the mid 19th century. Here in the heartland of western Oregon, the broad Willamette Valley was home to the first permanent residents in Oregon territory. By the turn of the century, with the arrival of railroad transportation, thousands more joined the hard working farmers of the valley.
   One of the lasting legacies of these hearty pioneers is Oregon's historic covered bridge collection. With a shortage of steel during the First World War I and a massive forest of Douglas fir covering the western Cascade Mountains, wooden bridges were commonplace. In fact during the early 1900s, nearly 400 new bridges were added to the state's inventories.
   Today only 50 of Oregonís covered bridges remain, and the Willamette Valley is home to a large number.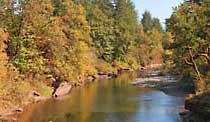 In the Scio area, the 10th oldest town in Oregon, five of the state's bridges make up a covered bridge tour. Here in the farm belt, many of the Scio bridges have been refurbished and remain in use today.
   Pictured here is the Hannah Bridge, built in 1935. Named for John Joseph Hannah, this mid century pioneer owned a 151-acre tract of land bound by Thomas Creek and Bilyeu Creek. Sometimes called the Thomas Creek Bridge, the Hannah Bridge is found just east of the I-5 corridor in Scio on Camp Morrison Road.

    Area Map
---
| | |
| --- | --- |
| Additional Area Attractions | |
---
Copyright © 2011-16 Benjamin Prepelka
All Rights Reserved