Scenic USA - Illinois
Scenic USA offers a collection of select photographs from a wide variety of attractions, points of interest, historic sites, state and
national parks found throughout the United States. Each photo feature is coupled with a brief explanation.
For further detailed information, links to other related sites are provided.
Springfield's Capitol Building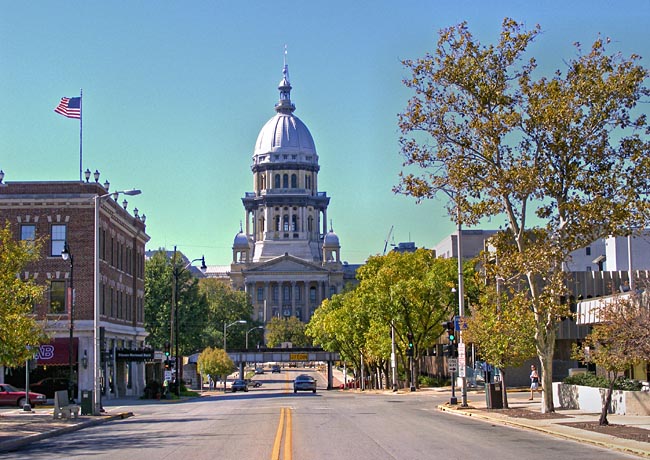 Springfield's Capitol Building, built in the style of the French Renaissance, breaks the skyline at 360 feet. Higher than the U.S. Capitol Building in Washington DC, the Illinois Capitol Building, with its zinc plated dome, is easily seen from almost anywhere in the city.
Once leased for four dollars a day, the state's first capitol was located on the Mississippi River. After five subsequent moves, the state settled on Mather Block, the highest point in Springfield. City folks desperately wished this site would hold their beloved president, but Mrs. Lincoln selected the Oakridge Cemetery.
After 20 years of construction and costs totaling four and half million dollars, the capitol building was completed in 1888. The most impressive Latin cross shaped footprint, with its wings pointing toward the four cardinal points of the compass, remains today as it appeared when first constructed. The interior has also retained its look, still displaying murals, sculptures and paintings. The capitol building is opened for tours, as is the Old State Capitol, a historic landmark.
Copyright ©2008 Benjamin Prepelka
All Rights Reserved