Scenic USA - Ohio
Scenic USA offers a collection of select photographs from a wide variety of attractions, points of interest, historic sites, state and
national parks found throughout the United States. Each photo feature is coupled with a brief explanation.
For further detailed information, links to other related sites are provided.
Turkey Creek Lake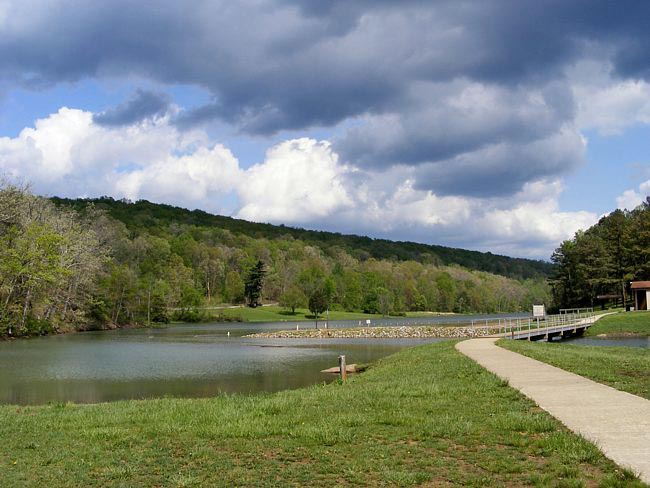 Ohio's Shawnee Hills lie on the edge of the Appalachian Plateau and snuggle up to the Ohio River Valley. This heavily forested land was home to the Shawnee Tribe, a name that comes from the Algonquin word shawun, meaning southerner. Eventually, the Shawnee were displaced by a western movement of pioneers and settlers as they spread across the land and established farms.
Since the early 1900s this land was reclaimed by the forest service and has since regained its natural look. The distinctive land of ridges and valleys, once uplifted, folded and buckled by tectonic forces, has smoothed over time and been dubbed Ohio's Little Smokies. This rippled earth, blanketed with thick cover of trees, gives off a distinctive haze, reminiscent of the Great Smoky Mountains.
This view looks over Turkey Creek Lake, part of the Shawnee Hills State Park. It's hard not to look skyward as the lake view is covered by a layer of ominous clouds. April is a time of year of unsettled weather; a period of transition between winter and summer.
Both park lakes are regulated, allowing only electric boat motors and muscle power. Public beaches are offered at Roosevelt and Turkey Creek lakes and several nature trails wind through the park. The Shawnee Division of Forestry oversees a 50 mile backpack trail plus 63,000 acres of Shawnee State Forest.
Copyright ©2009 Benjamin Prepelka
All Rights Reserved