Scenic USA - Missouri

Kansas City Reflections
---
---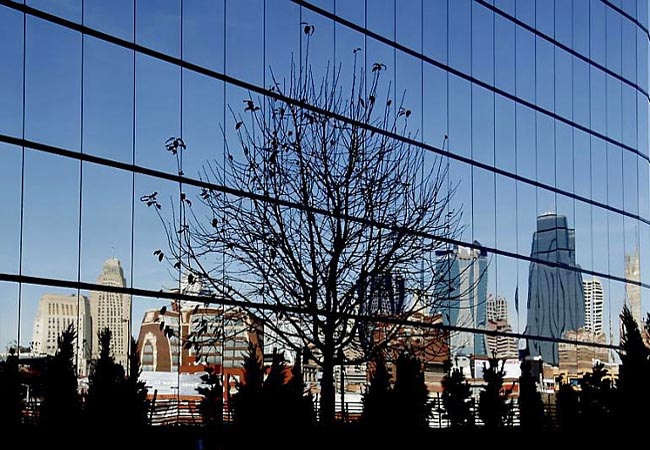 Just as Kansas City is divided by the Missouri-Kansas border, so too was Missouriís controversial entry into the Union as a slave state.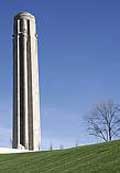 The Missouri Compromise further galvanized a broad division between the North and the South, resulting in a period of border wars characterized as "Bleeding Kansas."
   Today's Kansas City metropolitan area dates back to this pre-Civil War era when a few wealthy merchants bought 270 acres of farmland and established the town of Kansas City. Built near the confluence of the Kansas and Missouri rivers, Kansas City went on to become one of America's leading industrial and transportation hubs, second only to Chicago. Early 20th century big city bosses, James and Tom Pendergast helped shape the city's modern skyscrapers, built with their own Pendergast ready-mixed concrete. The railroad district, destroyed by a 1903 Kansas City flood, was replaced in 1914 by a massive, Beaux-arts style Union Station. Part of a 50 million dollar Kansas City railroad terminal project, Union Station soon reached a peak of 270 trains per day. Today, the station houses a science center, movie theaters, restaurants, planetarium, temporary museum exhibits, and also features symphony, jazz, ballet and dance performances.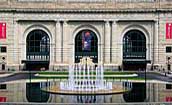 Located on bluff just south of downtown, Kansas City's Liberty Memorial overlooks the city. Ground breaking ceremonies were attended by all five World War I Allied Commanders in 1921. The memorial was eventually refurbished, expanded, and renamed. The National World War I Museum at Liberty Memorial, just across the street from Union Station, houses an extensive collection of World War I artifacts.
   This reflective city scene captures a tiny sampling of downtown Kansas City nearby Union Station. The metro area is well known for its art museums, baseball, football, fountains, amusement parks, and its rich history as a trading post and one of the first stops for the Lewis and Clark Expedition.

    Area Map
---
---
Copyright © 2011-17 Benjamin Prepelka
All Rights Reserved