Ready to celebrate its 200 year anniversary, America's first super highway began construction in 1811, linking older communities in the east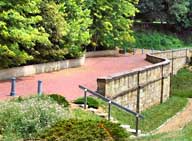 to newly settled territories west of the Appalachian Mountains. George Washington, early supporter of a National Road, feared that new populations in The Great Interior could form political ties with Spain and England, whose influences still prevailed in the west. Washington and another young surveyor, Albert Gallatin, formulated a plan and route that would eventually tie together the six mid-eastern states.
During its first decade of use, long before the automobile, populations in Ohio, Indiana and Illinois leaped from 700,000 to nearly 4 million. Built, using only physical labor and draft animals, the land was cleared, valleys filled, mountains leveled, and a macadam roadbed was created. America had its first highway, known as The Hard Road.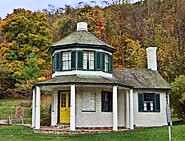 Today, a few unique S-bridges bring attention to the vast amount of work and craftsmanship used to build the National Road. The S-shape, regardless of many theories kicked about, was purely an engineering decision. The shortest distance across a river or stream was a perpendicular line to the riverbank. The bridge approaches, often askew, were used to set the road back on course.
Along with stone mile markers and historic toll houses, only a few of these S-shaped bridges remain. Built with local sandstone and utilizing the finest craftsmanship, these bridges have weathered the test of time. Designated as an All American Road and added to the National Scenic Byway list, the Historical National Road often lores sightseers from Interstate 40 to investigate this historic byway.